Beginning in the 1970s when more and more women were opting for careers instead of full-time homemaking, architects began designing homes with main or second floor laundry rooms.  The thinking was that since laundry consists mainly of bed linens, bath towels and clothing, why not locate laundry rooms closer to the source – that is, next to the bedrooms and bathrooms – instead of down in the basement?
Unfortunately, experience has shown that an upstairs laundry room can result in serious water damage to multiple levels of your home if there's a washing machine leak and ruin walls, floors and ceilings.  If the laundry room in your home or apartment is located on an upper level, here are some precautions you can take to prevent a disastrous flood.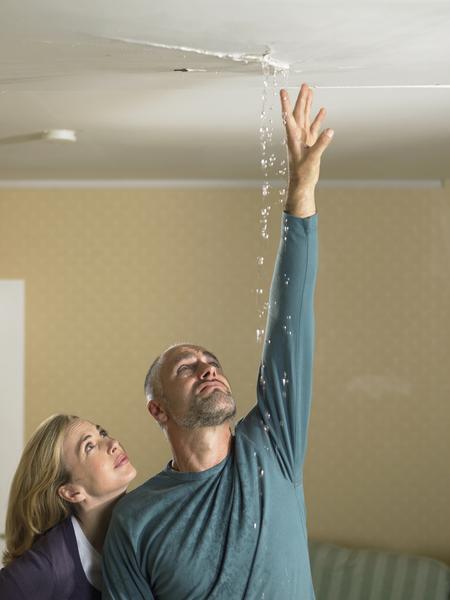 1.  Install a washer tray under your washing machine
Slide a plastic water-catching tray under your washing machine to catch drips and leaks so water can't seep through the floor to the rooms below.  It's a simple, inexpensive way to prevent water damage should your washing machine begin to leak. Pick one up at your local hardware store or home center.  Note that the tray's drain does not connect directly to the house's waste line – it can be an indirect line that dumps into a laundry tub, floor drain or even outside through the wall.
2.  Upgrade water supply hoses with auto-shutoff hoses
Over time, the water supply hoses that connect to your washing machine can become brittle and burst and should be replaced when worn.  But since it's easy to forget to inspect your washing machine hoses on a regular basis, we recommend replacing rubber hoses now with braided stainless steel auto-shutoff connector hoses like Watts Floodsafe Connectors.  When auto-shutoff connector hoses sense an excess water flow, they automatically turn off the water supply to your washing machine before catastrophic laundry room flooding can occur and water penetrates floors and ceilings.
3.  Turn off the water when not doing a load of wash
One of the easiest ways to prevent washing machine leaks is to turn off the water to the supply hoses when you aren't using your washer.  You can make this step even easier to do by replacing dual faucets with a single-lever faucet that turns off the hot and cold water supply at the same time.  Single-lever faucets are available at any plumbing supply or hardware.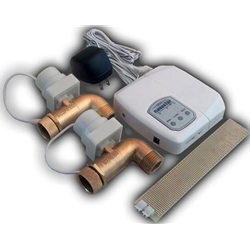 4.  Hook up an automatic water shutoff valve
An automatic water shutoff valve prevents flooding by immediately turning off the hot and cold water supply as soon as water is detected under or near the washing machine. Water shutoff valves like the Floodmaster and FloodStop systems are easy to install and provide 24/7 protection. Most models sound an audible alarm to alert you if you're around and some systems can be connected to a security system or auto-dialer so you'll receive notifications when you're out.
5.   Invest in a state-or-the-art "intelligent" automatic water shutoff valve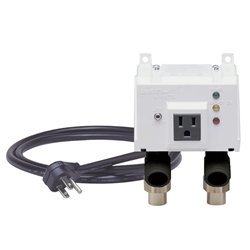 Did you know that a burst washing machine hose can discharge 500 gallons of water in one hour?  Think about what a mess that can make if your laundry room is located above your kitchen or family room!  Although a bit more expensive than other automatic water shutoff valves, an "intelligent" auto shutoff valve like the Watts IntelliFlow® uses an electronic control device that allows water to flow only when it senses that the washing machine is turned on.
It also has a floor sensor that turns off the water supply and the power to the washing machine in case there's leakage caused by a faulty discharge hose.  (Note:  If you already have a FloodStop shutoff valve, pair it with a Furman remote power relay which will turn off the washing machine if the leak is caused by the discharge hose.)
6.  Make your laundry room part of a "smart home" automation system
For the most comprehensive protection, install a Z-Wave "smart home" automation system that can be designed to turn off the water main if a leak is detected in the laundry room.  Depending upon the type of Z-Wave home controller you pick, you can receive alerts by phone call, email and/or text message if there's a water leak.  You'll also be able to remotely open and close your main water supply, so you can shut down the entire plumbing system from wherever you happen to be.  In addition to monitoring for water leaks, a smart home system can be used for enhancing security, safety and energy savings in your home.
Pros and Cons of Upstairs Laundry Rooms
An upstairs laundry room can save time and steps spent lugging heavy laundry baskets to and from a "ground zero" basement.  But not all homeowners are swayed by this convenience.  Many complain about noisy washers and dryers being too close to sleeping and living areas, especially if they have small children who nap.  Others feel they are still climbing too many stairs to reach that upstairs laundry room since they don't spend waking hours on the second floor by the bedrooms.  Potential water damage to rooms next to and below an upstairs laundry room is another big concern reported by homeowners.
In the end, the location of a laundry room comes down to preference and lifestyle.  If the home you are buying or currently live in has an upstairs laundry, it's better to be safe than sorry and take these steps to safeguard against laundry room flooding.  And while you're at it, you may want to consider installing one of these devices to protect your whole house from water damage caused by leaky toilets, dishwashers, refrigerators and other faulty appliances.