With winter just around the corner, now is a good time to tackle preventative maintenance chores while there's still plenty of daylight and comfortable fall temperatures. Preparing your home for winter will help protect your house, avoid emergency repairs later on, and keep your family cozy and warm. Some winter prep tasks may require hiring a professional, but many can be handled yourself with the right tools. Here are six maintenance tasks to be sure to include on your winter prep checklist.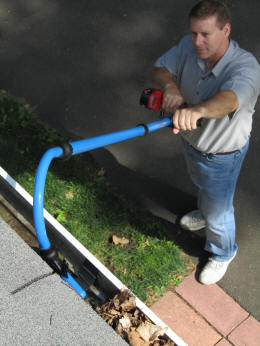 1. Clean Out Gutters to Prevent Ice Dams and Leaks
Cleaning fallen leaves and twigs out of your home's gutters in the fall will prevent ice dams from forming and allow melting ice and snow to drain away from the house.  Instead of hiring a professional gutter cleaner, a do-it-yourself gutter cleaning tool kit will let you knock this project off in an afternoon. These easy-to-use DIY systems hook up to a garden hose and let you remove leaves and debris from your gutters without having to get up on a ladder.
2. Clean Furnace and Chimney to Improve Efficiency and Prevent Chimney Fires
No one wants to go without heat when the temps outside are below freezing, so make sure your heating system, fireplace and wood stove are ready for the cold winter months.  Bring in a professional to inspect your furnace to ensure that it is working properly and the filters cleaned or replaced. Tip: Avoid the heating season rush by making an appointment with your heating contractor early in the fall.
If you have a fireplace or wood/pellet stove, you will want to make sure the chimney and flue are clean of creosote and soot to prevent chimney fires and improve efficiency.  With a do-it-yourself chimney cleaning system, you can clean your own chimney from inside the house using a power drill and the special tools that come in the kit.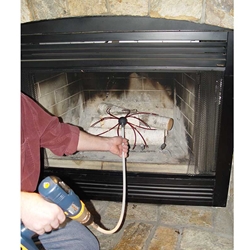 3. Winterize the Outdoor Water Supply to Prevent Frozen Pipes
To prevent outdoor pipes from freezing and cracking, turn off all outdoor water faucets using the shut-off valves in the basement. Be sure to leave outside faucet handles open.  If you have an outdoor sprinkler system, turn off the water at the source and drain.  Next, disconnect, drain and store garden hoses in the garage or shed.
If you know that you'll need the garden hose during the winter months for pets or for filling an outdoor hot tub or pond, get a thermostatically-controlled rubber hose that you plug in for 20 minutes before using.  It will give you ice-free outdoor water all winter long.
4. Protect Indoor Pipes by Insulating and Alarming
Indoor pipes can freeze and burst if there is a power outage or the heating system fails. During a deep freeze, indoor pipes located in unheated or poorly insulated areas are especially vulnerable. Protect pipes in unheated locations including the attic, basement, crawlspace and garage by wrapping them with insulated tape or flexible molded pipe sleeves.
If you have a sump pump in your basement, now is the time to check that it is working properly and is not blocked.  To receive alerts that the sump pump has malfunctioned, consider installing a sump pump alarm.  A "local" sump alarm will sound a loud alarm alert that you'll hear from inside the house.  You can also get a cellular pump alarm that sends text message alerts to your cell phone so you'll receive the warning even when you're away.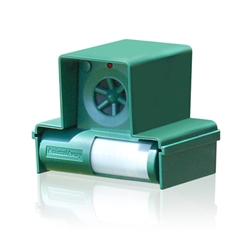 5. Keep Destructive Animals and Pests out of Homes, Yards and Vehicles
Pesky animals, rodents and insects looking for food and warmth in the wintertime can invade your house and make a mess in your yard while scavenging through your garbage cans. Squirrels, mice and other small animals are known to nest under the hoods of cars, lawnmowers, boats and snowmobiles where they like to chew on the wiring. One of the easiest and most effective ways to rid your home, yard and vehicles of unwanted animals and insects is with an electronic animal and pest deterrent. These inexpensive devices use high-intensity ultrasonic sound waves that are so irritating to critters that it drives them away.
6. Conduct a Home Safety Inspection
Fall is a good time to do an annual home safety check to make sure your equipment is working properly before you begin using your furnace, fireplace or wood stove.
Smoke and CO detectors — Replace batteries in smoke detectors and carbon monoxide (CO) detectors and vacuum with a soft brush. Test smoke detectors by pressing the test button or holding a smoke source (like a blown-out candle) near the unit. Check the expiration date on your CO detectors and replace if necessary.
Fire extinguishers — Every home should have at least one fire extinguisher rated for all fire types (look for an A-B-C rating on the label). At a minimum, keep one near the kitchen. One per floor is recommended. Check the indicator on the pressure gauge to make sure the extinguisher is charged.
Fire escape plans — Every bedroom, including basement bedrooms, should have two exit paths. Make sure windows aren't blocked. Ideally, each upper-floor bedroom should have a rope ladder near the window for emergency exits. Have a fire escape plan for your family and practice your routine.
Summary
Before the harsh winter arrives, take care of preventative maintenance chores like these to ensure your home is ready for winter. By handling many of these tasks yourself, you can save on labor now and avoid costly and inconvenient emergency repairs later on.