For people who are home all of the time and businesses with round-the-clock employees, a power outage alarm is probably not necessary.  It the power goes out, someone will likely notice it as quickly as the device would.  But for most families who work or travel, as well as for unoccupied vacation homes and offices or commercial buildings left vacant during weekends and holidays, a call-out power outage alarm that notifies you when there's a power failure at the site can have many benefits.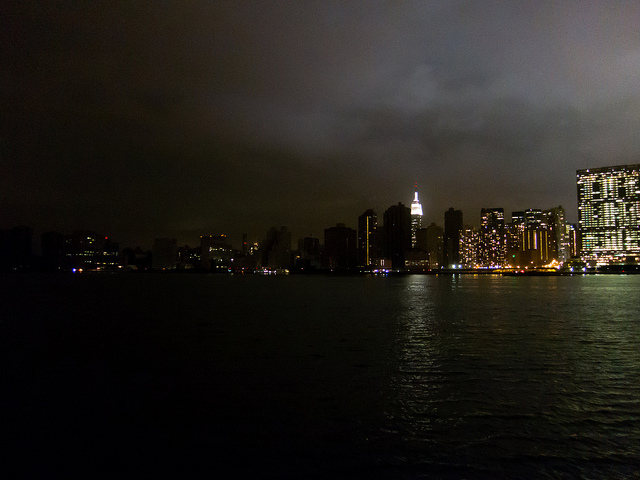 Ways to Use a Power Outage Alarm
Sending you an early notification so you can address potential problems, such as removing the contents of a freezer before the food spoils, is one of the most important functions of a power outage alarm.  Of course, there may be times when you choose to do nothing immediately other than call the utility company to find out how long the power will be out.  But even that information can be helpful so you can make informed decisions and take appropriate steps, especially if you learn that the electricity will be off for days, rather than hours. Here are some of the typical ways that homeowners and businesses use a power outage alarm:
Refrigerator and freezer monitoring
Generator monitoring
Sump pump monitoring
Computer equipment monitoring
Heating and A/C system monitoring
Chemical storage monitoring
Fish tank and aquarium monitoring
Security system monitoring (if no battery backup)
A power outage alarm can be useful even when you are home but asleep.  The alarm will waken you so you can take care of important safety issues, like getting flashlights and emergency lighting ready or filling containers with water for drinking and flushing toilets.

Connectivity
When there's a power failure, a call-out power outage alarm contacts you by phone, email and/or text message.  Many units also sound a loud audible siren.  Most models are multi-functional and also monitor for other conditions in the home, such as temperature.  Prices vary based on functionality and most models have battery backup. All call-out power outage alarms need a way to communicate.  Choose the model that fits the communication connectivity service available at your site.  The options are:
Landline phone connection
Cell phone signal
Internet/WiFi connection
Landline Phone Connection
If your home or business has a landline* phone connection, there are several power outage alarms to choose from. The HomeSitter, for example, is one of the lowest-cost alarms on the market.  It will call up to three phone numbers and protect your home against power outages, temperature extremes and water leaks or sump pump failures.  The Intermediate Freeze Alarm and  Deluxe Freeze Alarm are popular power outage and temperature alarms that allow you to call in for real-time updates on temperature, power and battery status.  Like the HomeSitter, they call up to three phone numbers and monitor for hot or cold temperatures.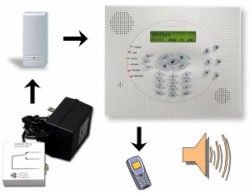 For a truly multi-functional phone alarm, choose one of the more advanced models that have inputs for optional sensors to monitor for break-ins, humidity, fires, smoke and flooding. Best sellers in this category include the Sensaphone CottageSitter 400 with inputs for four sensors and the Rokonet Power Failure Emergency Siren and Dialer Kit which accepts up to 32 wireless sensors. *Note that some digital phone services (digital cable phone service, VOIP, DSL phone service) require uninterrupted power to operate which means that the power outage alarm may not be able to call out during a power failure. Check with your phone service provider with any questions.
Cellular Phone Connection
If there's no landline phone or Internet at your location, you can use one of these power outage alarms as long as there is cell service at your site.  One advantage of cellular power outage alarms is that they continue to operate even when telephone lines are down due to harsh weather. The DIY Cellular Alarm for Homes sends text message alerts to up to three cell phone numbers to warn of power outages and two other conditions. When power is restored or the conditions return to normal, the DIY Cellular Alarm sends another text message so you know that the situation is resolved.
Another model, the temperature@lert Cellular Edition, monitors for power and ambient temperature.  If the temperature falls or rises outside the set range or there is a power outage, it notifies you via text message as well as phone call, or email. Note:  You can also provide a cellular connection to any other type of call-out power outage alarm using a device called a cellular terminal that provides instant cellular connectivity at your location.

Internet Connection
If your home or business has a round-the-clock Internet connection, you can use a web-enabled power outage alarm like the  Sensaphone Web 600 that communicates via the Internet and sends out email and text message alarm notifications instead of phone calls.  This call-out alarm has inputs for up to six external sensors and will contact up to eight people. (Note it requires an optional battery backup module for continued operation during power outages.)
Or, build your own multi-functional remote thermostat and power outage alarm by plugging a BayWEB Internet Thermostat into an inexpensive Power Loss Sensor and have the ability to receive power failure notifications via email or text message along with advanced energy management capabilities.
Summary
For homeowners, a power outage alarm can help prevent costly problems like freezing pipes due to no heat or a flood caused by a sump pump failure. Power outage alarms have proven particularly useful for people with health issues who are dependent upon powered equipment such as oxygen tanks, or for any application where a nighttime power failure could cause an emergency.  For businesses, a power outage is a wise investment to protect property when the building is unoccupied.  Regardless of the application, be sure to choose a model that has a long-life backup battery for prolonged operation.