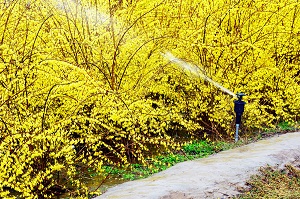 If you think your water bills are too high, a hose water meter attached to your garden hose is a low cost item that will pay for itself in no time.  A hose water meter shows you how many gallons of water are running through your hose so you can control your overall water usage and better judge when your lawn or plants have had enough to drink.  Here's a look at two types of hose water meters and some practical ways you can use one at home and around the yard.
(Photo by 
stockfreeimages.com
) 
Hose/Faucet Water Meter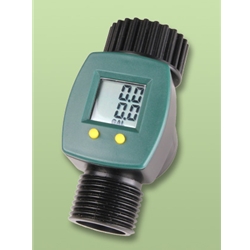 It's a lot easier to conserve water when you are aware of how much you are actually using.  Attach one end of the Save A Drop™ Water Meter to your outside water faucet and the other end to your garden hose.  The Save A Drop Water Meter will measure both single waterings and cumulative water usage.  Its easy-to-read LCD screen gives a digital readout that is accurate to 1/10 of a gallon.
Nozzle Water Meter
A nozzle style hose water meter is ideal for gardeners because it takes all the guesswork out of delivering the right amount of water to each plant.  The Save A Drop™ Green Nozzle garden sprayer attaches to the end of the hose and shows how much water you are using as you spray.  It delivers a consistent flow rate regardless of water pressure and has four types of spray patterns:  cone, soaker, flat and shower.
Uses for a Hose Water Meter
Watering Plants and Shrubs – Over-watering is the most common cause of plant death and can result in root rot or other infestations.  With a water meter, you can measure and track exactly how much water you are giving each plant to avoid accidentally "drowning" your plants, trees and shrubs.

Lawn Sprinklers – Instead of using a clock to guess how much water your lawn sprinkler is delivering to your lawn, a water meter gives you an accurate reading in gallons so you know when it is time to turn the sprinkler off and avoid wasting water.
Fish Ponds and Water Gardens – Conditioning the water of a backyard fish pond is crucial for the health of the fish. Water and pond conditioners are also used to improve a pond's appearance and to treat tap water before it's added to the pond.  Using a water meter to accurately mix and measure water and conditioning chemicals will help you get the chemistry in your fish pond right every time.
Washing the Car – A water meter nozzle is a handy tool to use the next time you are washing your car in the driveway so you can see exactly how many gallons of water you are using.  When you are not spraying, the nozzle turns off automatically to conserve water.
During Water Shortages – If your community is experiencing a water shortage and is rationing water usage, a water meter provides you with a way to track the amount of water you are using and reduce waste.
Summary
Knowing how to reduce your water usage is a valuable skill, whether you want to save money by cutting your water bill or control the amount of water you give your plants.  A faucet or nozzle style hose water meter makes conserving water easier by providing an exact measurement of water usage.  Once you realize how much water is flowing out of your garden hose, you may want to look for other ways to conserve water so you can do your part in protecting this valuable resource.