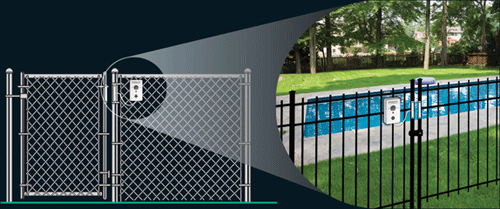 It takes only minutes for a child to drown, which is why most towns have swimming pool safety laws requiring homeowners to enclose pools and spas with a fence at least four feet high with a self-closing gate. And because the pool gate is often the weakest link in keeping youngsters out of the pool area, many municipalities also require a pool gate alarm as another layer of protection.
A pool gate alarm sounds a siren when the door or gate is opened. If a child manages to open the gate, the piercing siren of the pool gate alarm will alert nearby adults that someone has entered the pool area. The alarm will sound continuously or intermittently until the reset button is pushed or the battery expires. Most gate alarms have a time delay of about 6-7 seconds so an adult can pass through and silence the alarm within that time period by pressing the bypass button or entering the proper code. (There are models available with a 0 second delay.)
For double protection, some pool gate alarms can transmit to a special remote receiver and your home security system, ensuring that you'll hear the alarm even when you are inside your house. And for triple protection, swimming pool safety guidelines recommend using both a pool gate alarm and a pool alarm. That way a child who succeeds in getting past the gate alarm will be protected by a second alarm if he/she then falls into the water.
Here are a few of the most popular pool gate alarms and their key features:
Pool Patrol GA-30 – This wireless gate alarm has a remote receiver so you can set the alarm to go off in your house as well as at the gate.  It can also be used with your home security system. If you have multiple gates, compatible gate alarms are available that work in conjunction with the GA-30.  Many states now require an in-home alarm as well as the outside siren, making the remote receiver a good option.
Poolguard Gate Alarm GAPT – This alarm can be used on any gate or outside of a door giving access to your pool. The alarm sounds in 7 seconds if a child opens the gate, even if they close the gate. The alarm is always on and always automatically resets under all conditions, even if someone accidentally leaves your gate open for children to wander through. The Poolguard Gate Alarm is equipped with an adult pass-through feature that allows adults to go through the gate without the alarm sounding.
YardGard Alarms – This easy-to-install alarm lets you program your own entry and exit code. It features a 7 or 15 second delay that allows for adults to pass-through using a convenient single button pass / reset operation. Hardware is included for mounting on gates, doors and windows.
A pool gate alarm is an easy, affordable way to protect children and pets from accidental drowning – and it most places, it's the law.  Contact the building and code department of your municipality for details on their swimming pool gate alarm ordinance and choose an alarm that complies.  For instance, some towns have a zero second time delay requirement.  For more information and pricing on the different models, go to the Pool Door / Pool Gate Comparison Chart.