If you have little ones who are learning to swim, choosing the best swim aid for beginners can be confusing if you don't know the difference between a swim vest, swim tube or swimmies.  Most young children love splashing in the water, so it's easy to introduce them to the pool, but choosing the right swim aid is a critical step in keeping your new swimmer safe.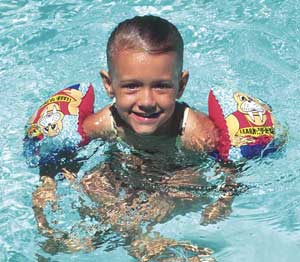 Personal Flotation Devices (PFD or Life Vest) vs. Swim Aids
Many consumers confuse "swim aids" with water safety devices that are designated by U.S. Coast Guard as "personal flotation devices" (a.k.a. PFD, life jacket or life vest).  But it's very important that parents know the difference.
PFD or Life Vest — USCG-approved personal flotation devices are designed for safety to give the wearer more buoyancy and help them stay afloat in the water.  The USCG has five categories of PFDs. 
Children's life vests are either Type III "Flotation Aids," which can be used to teach beginning swimmers, or Type II "Near Shore Buoyant Vests," which are recommended for babies and non-swimmers.  When selecting a life vest, note that fit is important and that life vest sizing is based on the child's weight and not chest size, as with adults.
Swim Aids – Swim aids or swim floats (such as swimmie arm bands) are designed to teach beginning swimmers how to float, balance and paddle and help them build confidence as they learn to swim.  Swim aids, however, are not USCG approved.
Swim Tubes – A Great First Step to Build Early Confidence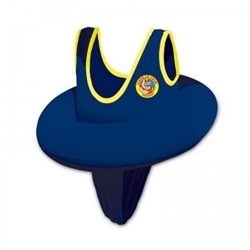 For toddlers and young children under 35 pounds, a swim tube learn-to-swim trainer is a safe way to introduce them to the water and build confidence.  Swim tubes are basically a rubber tube that the child wears like a piece of clothing.  The cloth tank top slips comfortably over the child's head and the bottom strap fits securely between the legs. Wearing a swim tube, children will enjoy freedom of movement while floating upright or in a swimming position.
"Swimmie" Arm Floats – A Good Next Step for Beginners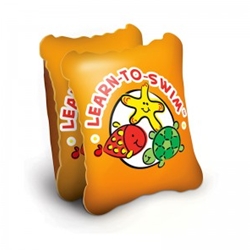 Floating in the water doesn't come naturally for many beginning swimmers. Learn-to-Swim Arm Floats – often nicknamed "swimmies" – are inflatable arm bands that offer beginning swimmers comfort and dependability.  Swimmies are great for beginning swimmers who already know how to keep their head out of the water.  They provide just enough buoyancy so children can relax in the water and focus on learning their strokes and kicks.
Life Vests Can Also Help New Swimmers
Although not specifically designed for learning to swim, a child's life vest can be used to provide buoyancy and security in the water.  Of the two types for children, Type III life vests are best for swimming.
  Type III life vests are designed for comfort and come in styles for different boating activities and sports.   A Type III life vest works well for beginning swimmers who have experience in the water because they offer comfort and mobility.  Type III life vests are designed for use in calm water where there is good chance of fast rescue.  Wearers must be able to put themselves in a face-up position, but they may have to tilt their head back to avoid being face down in water.
Type II life vests are recommended for toddlers and non-swimmers.   This style has a padded head support collar, grab handle and crotch support and is designed to turn an unconscious wearer to a face-up position until rescued.
More Water Safety Tips
Adult supervision is the best way to keep babies, young children and non-swimmers safe around open water.  As another line of defense, have all non-swimmers wear a water immersion pool alarm like the Safety Turtle wristband.  If the wearer falls or jumps into the water, an alarm will sound immediately.  Pool owners should also keep a throwable ring buoy on hand that can be tossed quickly to anyone struggling in the water.
Providing your beginning swimmer with a swim aid or life vest will help them float and get used to the water as they learn swimming skills.  Parents should also be sure that the backyard or community pool where their children are playing is protected by up-to-date pool safety equipment, including a pool alarm, pool gate alarm and pool safety fence.