Are those new, sleek $250+ "smart" thermostats that "learn" (like the Nest by Google) worth the investment? Do all smart thermostats know how to learn or are some models smarter than others? Most importantly, will a smart thermostat reduce your energy bill? If you're in the market for a new thermostat for your home and have questions like these about thermostat terminology and technology, here are some tips on choosing a thermostat that fits your lifestyle and budget.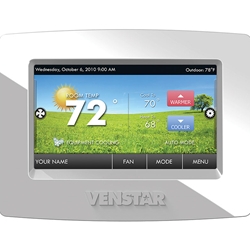 What Makes a Thermostat "Smart"?
The primary purpose of any thermostat is to let you adjust the temperature in your home and control your heating and air conditioning system. Old-fashioned thermostats (think wall-mounted round dial type) are inexpensive and actually very reliable. If you can remember to change the setting before you leave the house or go to bed so you aren't heating or cooling unnecessarily, you can save on energy with one of these manual thermostats.
The next step up is a "programmable" thermostat that allows you to set up a daily and/or weekly schedule whereby the thermostat automatically adjusts the temperature up or down based on your settings. Programmable thermostats can help reduce fuel bills by lowering the heat and A/C automatically. Once programmed, you don't have to remember to manually adjust the temperature unless you want to override the settings. They are also useful for pre-heating or pre-cooling your home prior to your return. Aube makes basic programmable thermostats for electric heating systems and hot water baseboard/forced hot air systems that sell for under $75.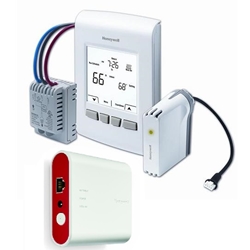 Smart thermostats are basically high-tech programmable thermostats with extra bells and whistles to increase energy savings and user-friendliness.  Remote temperature control from anywhere using a smartphone or computer is the most popular feature of a smart thermostat. Another key feature is the ability to view your energy usage and savings via a web portal.
With a smart thermostat, you can turn up the heat from your iPhone before you get home from work or turn off the A/C from your desktop at work.  You can also view your energy savings in real time on an app interface. Because a smart thermostat has the same benefits of a programmable thermostat and lets you make temperature changes at anytime from anywhere, you should see even bigger energy savings.
Smart thermostats typically cost $75 to $100 more than a conventional programmable thermostat. For electric baseboard heating systems, Honeywell offers the EConnect Wireless Thermostat that communicates wirelessly with the unit and installs easily on the wall for improved temperature sensing and convenience.
NOTE:  In order to communicate, smart thermostats require you to have an Internet connection in your home that is always on, 24/7. Many models use WiFi, such as the Venstar Colortouch with WiFi. Others models connect to your router with an Ethernet cable, like the popular BAYWeb Internet series, which can be adapted to wireless using a Powerline Ethernet bridge kit.
What "Learning" Thermostats Learn
Learning thermostats are smart thermostats with a built-in occupancy sensor that allows it to "learn" your daily habits so they can create a customized temperature schedule based on your activity.  For instance, if your family leaves the house every morning by 9:00 a.m., the learning thermostat will turn down the heat at that time and turn it up again later when everyone returns home.
Learning thermostats also measure things such as ambient light, humidity, and motion and use that information to fine-tune its program. If it detects that you're not home on the weekend when you usually are, it adjusts accordingly, even if the standard program dictates otherwise.
The biggest advantage of a learning thermostat is that you don't have to program it yourself, which some people find appealing. Plus you get all of the features or a smart thermostat, including remote climate control. Learning thermostats will help you reduce your fuel bill and track your energy consumption, but costs range from around $250 to $500 for a Nest or Ecobee unit (plus professional installation if needed).
Challenges of Learning Thermostats
In addition to the high price tag, the ability of a learning thermostat to measure your family's activity and create a customized temperature schedule can be inhibited by the location of the thermostat because its occupancy sensor is built in. In many homes, the main thermostat is located in an isolated place like a living room or hallway, instead of a high-traffic location like the kitchen, so the auto-program the thermostat creates will be both ineffective and inaccurate.
The Bottom Line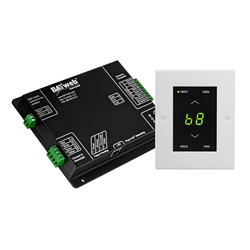 Unless you're religious about adjusting your thermostat when you leave the house, a programmable thermostat can save up to $180 per year on heating and cooling (according to the EPA), so upgrading your old-fashioned manual thermostat to a programmable model is definitely worth the money.
If you also want the ability to control temperature remotely from your smartphone or computer and you have a 24/7 Internet connection in your home, you'll want to spend a little more to get a smart thermostat.
If you want an automated temperature schedule but can't be bothered with the hassle of programming your thermostat, you may be able to justify the expense of a learning thermostat. However, before you invest in a learning thermostat, make sure the location of your main thermostat is in a high-traffic area and consider how long you'll be living in your home. It you plan to move soon or only rent, it is probably not worth the additional cost.
If thermostat location is a problem in your home, a good alternative to a learning thermostat is a smart thermostat like the BAYWeb that uses wireless motion/occupancy sensors that can be placed in strategic high-traffic places around the house.  The remote sensors will sense movement when people are home in multiple locations around the house and communicate it to the thermostat, which will adjust temperature accordingly.