If you are looking for a low cost way to protect your valuables against light, heat and theft and receive alerts via your smartphone if something goes wrong, the Elertus WiFi Smart Sensor is the answer. There are a slew of ways you can use Elertus to protect all kinds of stuff – we've thought of 21 – including monitoring a vacation home for intruders or being notified if the temperature gets too warm at a commercial refrigeration facility. Regardless of what you need to protect, the Elertus WiFi Smart Sensor is one of the easiest to install and least expensive monitoring and messaging devices on the market.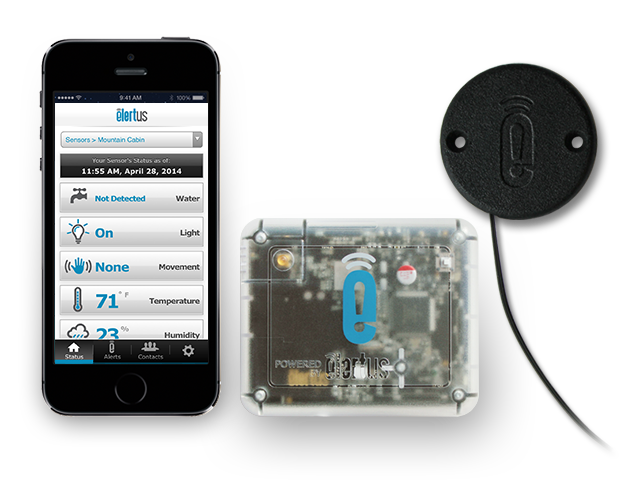 How Does it Work?
The Elertus WiFi Smart Sensor is a wireless, battery-powered device that consists of smart sensors and a cloud-based app. Small in size (about 3″ W x 2.5″ L x 1″ D), the Elertus unit comes with built in temperature, humidity, motion and light alerts. If you want to monitor for water leaks or opening doors, wired probes and sensors are sold as accessories.
Any time there is an "action" – such as when the device reaches a specified temperature or humidity, a door is opened unexpectedly or when movement is detected — Elertus sends a notification to your smartphone in the form of a text message or email alert. Users can customize the alerts they want to receive and how they want to receive them. Elertus sends alerts to up to 5 users.
The Elertus apps work with iPhone®, iPad® and iTouch® devices as well as Android smartphones. Although the Elertus doesn't have a digital display, it does send your data to its server site in the cloud. You can access the info in your account using Elertus software.
Easy Installation
Elertus is really simple to install. First of all, it's cordless and runs on AA batteries, so you can put it just about anywhere – inside and outside. And it connects through your Internet WiFi network wirelessly within a range of about 50 feet.

21 Ways to Use an Elertus WiFi Smart Sensor
Inside Your Home
1.  Cabins and Vacation Houses
2.  Wine Cellars and Liquor Cabinets
3.  Gun Safes
4.  Bathrooms
5.  Kitchens
6.  Cigars
7.  Aquariums and Terrariums
8.  Tool Cases
9.  Utility and Laundry Rooms
10.  Pipes
11.  Crawl Spaces
12.  Refrigerators and Freezer

Outside Your Home
13.  Backyard sheds
14.  Hot Tubs
15.  Garages
16.  Parked Boats and Motorhomes
17.  Doghouses
18.  Greenhouses

Commercial Uses
19.  IT Server Rooms
20.  Refrigeration Rooms
21.  Vaccine Storage
How Low is "Low Cost"?
The Elertus WiFi Smart Sensor is one of the most affordable remote monitoring devices out there and is priced at under $200. The Elertus software is free and there is no charge for using the Elertus web services, which includes the smartphone app, instant notifications, text messages and emails, as well as the ability to login to the website to check its status and configure your alerts.
Summary
All of us have a lot of prized possessions that we want to protect but we can't always be around to monitor them. With an Elertus WiFi Smart Sensor, you can safeguard everything from your fine wine collection to your rental cabin to your beloved pets. If anything triggers the conditions you set, your Elertus will contact you right away via your smartphone, even when you're on the road or far from home.