Whether you want to be able turn up the heat in your house while commuting home from work on the train or just need a way to adjust the temperature without leaving the comfort of your living room sofa, Venstar has a remote control thermostat to fit your needs and budget.  Venstar, one of the leading manufacturers of thermostats in the world, understands that today's consumers want convenience, energy efficiency and reliability when it comes to home thermostats.  But they also recognize that users have different requirements when it comes to remote control thermostats — some people demand the latest and greatest technology, while others want something more basic.  Keep reading to learn which Venstar thermostat fits your needs.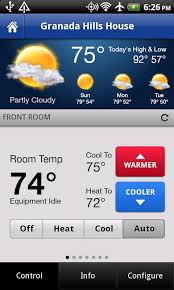 Venstar Voyager — Wi-Fi, Z-Wave™, and ZigBee™ Compatibility
The Voyager series is Venstar's newest line of advanced digital remote control thermostats that allows you to control your home thermostat from anywhere at anytime via your smartphone.  Make your Voyager thermostat compatible with the protocol of your smart home system by adding either the WiFi, Z-Wave or ZigBee wireless module.
Features Include:
Controls heat and A/C remotely whether you are home or away
Compatible with WiF, Z-Wave and ZigBee smart home systems
Free mobile app for Apple, Android and Blackberry
Switchable:  Programmable or non-programmable
Works with gas, electric or heat pump — multi-stage
Large, easy-to-read display
Outdoor temperature sensor so you can modify home temperature based on the current weather
Affordably priced from $60 to $120
Venstar ColorTouch — Built-in WiFi and Stylish Design
Homeowners love the look of the Venstar ColorTouch, the high resolution digital thermostat with the touch screen display.   The attractive ColorTouch remote control thermostat now comes with built-in WiFi so you can control and monitor the temperature in your house from using your smartphone from anywhere.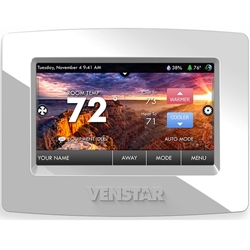 Features Include:
Up to 4 heat & 2 cool stages
Works with gas, electric or heat pumps
Dual fuel capable
Free mobile app for Apple, Android and Blackberry
Switchable: Programmable or Non Programmable
Customizable screensaver and wallpaper
Venstar Slimline — Control Temperature by Phone Call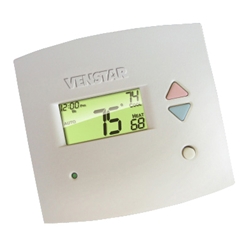 The Venstar Slimline is the remote control solution for homes without WiFi or a smart home system.  With the addition of a Comfort Call Phone Thermostat Controller, you'll be able to call your Slimline thermostat from any telephone and adjust the temperature in your home.  The Venstar Slimline is an easy way to add remote temperature control in vacation homes that lack year-round WiFi!
Features Include:
1-day programmable with up to 4 time periods
Works with gas/electric, heat pump, electric and hydronic heat
Add a handheld IR remote controller to adjust heat from your sofa
Venstar Wireless Remote Kit — In-Home Convenience
The Venstar Wireless Thermostat Kit is the perfect solution for homeowners who simply want the convenience of a handheld wireless controller.  This remote control thermostat is completely wireless so you can mount it anywhere in the house.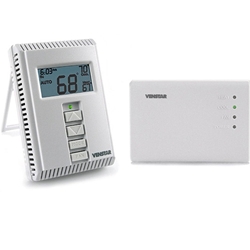 Features Include:
Works with gas, electric or heat pumps
Up to 4 thermostats can be used with one receiver
Transmits up to 500 feet, through walls and floors
Transmits at 418MHz using pulse code modulation so it won't interfere with other wireless systems
7 -day programmable with 4 time periods per day
More on Remote Control Thermostats
For additional information on how to choose a remote control thermostat for your home, go to the diycontrols.com blog and read "Add the Convenience of Remote Temperature Control to Your Home."