In between football games, apple picking and celebrating Thanksgiving, homeowners need to schedule time for these important home maintenance tasks to prepare for the upcoming winter.  Some chores, like changing batteries in your smoke detector, can be done at any time.  Other tasks, like shutting down your outdoor water supply and underground sprinklers, are more timely and should be taken care of before the first frost.  Add these home maintenance to-do's to your fall calendar to protect your property during the cold winter months and reduce the need for costly emergency repairs down the road.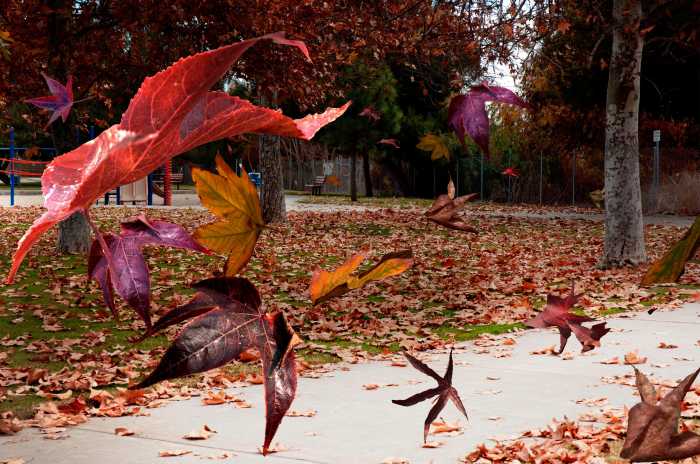 Early Fall Home Maintenance Chores
These chores are best done in the September and October when the sun is warm and temperatures are comfortable for working outside.
1.  Gutters — Prevent ice dams from forming by cleaning fallen leaves and twigs out of your home's gutters so melting ice and snow drain away from the house.  Save yourself $100 to $200+ by using a do-it-yourself gutter cleaning tool kit instead of hiring a professional gutter cleaner.
2.  Heating System — Before the heating season rush, bring in a professional HVAC serviceperson to inspect your furnace and make sure that it's working properly and the filters are cleaned or replaced.
3.  Indoor Plumbing — Protect pipes in unheated locations from freezing and cracking by wrapping them with insulated tape or flexible molded pipe sleeves.  Add an easy to set-up wireless water alarm system to monitor leak-prone places around the house, especially in remote sections like attics and crawlspaces.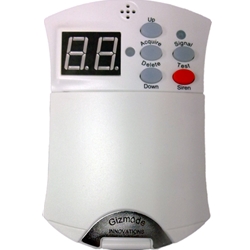 4.  Pest Control — Inspect the exterior of your house and garage for openings that pesky animals, rodents and insects can penetrate and seal with caulking or screening.  Get an electronic animal and pest deterrent that uses high-intensity ultrasonic sound waves too drive away small animals that like to nest under the hoods of cars, lawnmowers, boats and snowmobiles and chew on the wiring.
Pre-Frost Home Maintenance Tasks
It's critical that these fall home maintenance jobs be addressed before the ground freezes and temperatures drop.
1.  Outdoor Plumbing — Prevent outdoor pipes from freezing and cracking by turning off all outdoor water faucets using the shut-off valves in the basement. Be sure to leave outside faucet handles open.
2.  Underground Sprinklers — Winterize outdoor sprinkler system by turning off the water at the source and drain.
3.  Winterize Pool — Winterize your swimming pool by following these steps listed here.  To prolong the life of your expensive pool cover, invest in a pool cover pump to remove standing water.
4.  Garden Hoses — Disconnect, drain and store garden hoses in the garage or shed.  If you know that you'll need the garden hose during the winter months for pets or to fill an outdoor hot tub or pond, get a thermostatically-controlled rubber hose that will give you ice-free outdoor water all winter long.
Anytime Fall Home Maintenance Chores
1.  Smoke Alarms and CO Detectors — Replace batteries in smoke detectors and carbon monoxide (CO) detectors and vacuum with a soft brush.  Test smoke detectors by pressing the test button or holding a smoke source (like a blown-out candle) near the unit. Check the expiration date on your CO detectors and replace if necessary.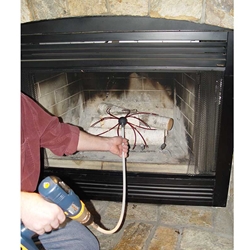 2.  Chimney and Flue — Before using your fireplace, wood stove or pellet stove, make sure the chimney and flue are clean of creosote and soot to prevent chimney fires and improve efficiency.  With a do-it-yourself chimney cleaning system, you can clean your own chimney from inside the house using a power drill and the special tools that come in the kit.
3.  Prepare for Power Outages — Stock up on batteries, bottled water, medicines and canned food.  Get a hand-crank radio or battery-powered NOAA Weather Radio to stay informed of severe weather developments and other emergencies.  Keep a mobile phone charger on hand in case your landline telephone service goes out.
4.  Fuel and Firewood — Order heating fuel and stock up on firewood before the winter heating season begins.
5.  Home Security —  Keep your family safe with these inexpensive DIY home security products.  They are easy to install yourself…but be sure to get out there before the first snowfall.  A driveway alarm or entry alert that alerts you of arriving vehicles or visitors at your door;  motion-sensitive solar-powered floodlights around your house to deter trespassers; or an affordable callout wireless security system that sends alerts by phone or Internet if there is a break-in.