Your backyard pool is a fun place for kids to splash, play and beat the summer heat. But water safety is no laughing matter. According to the Centers for Disease Control and Prevention (CDC), drowning ranks fifth among the leading causes of unintentional injury death in the United States, and one in five people who drown are children age 14 and under.
If you have a backyard pool, you are well aware that keeping kids safe in and near the water is a top priority. However, it never hurts to brush up on your water safety skills. Here are some general guidelines to follow to help prevent accidents: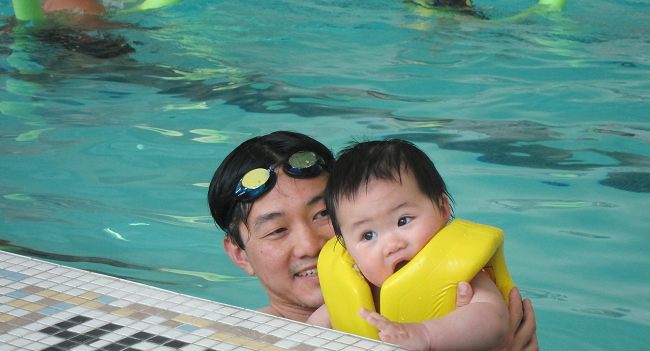 Never leave children unsupervised
Drowning can happen quickly and quietly anywhere there is water, whether it's a pool, hot tub, or natural body of water. Adults should closely supervise children at all times and avoid distracting activities like reading or talking on the phone. Children under age 4 should be supervised at arm's length, even if they can swim.
During gatherings, adults who know how to swim can take turns being the "designated watcher." Be sure to avoid drinking alcohol when you are swimming or supervising children who are swimming. Alcohol influences balance, coordination, and judgment, and its effects are heightened by sun exposure and heat. The bottom line is that alcohol and swimming do not mix, whether the person is in the pool or charged with supervising children or non-swimmers.
As a backup to adult supervision, a "water immersion" pool alarm like the Safety Turtle system can be used to protect children around a pool. If a child wearing the special water-activated Safety Turtle wristband falls into the pool, a loud alarm will sound at the nearby base station. Safety Turtle can also be used to protect dogs and cats of all sizes using special immersion tags that clip to your pet's collar.
Teach children to swim
Research by the American Academy of Pediatrics concludes that most children ages 4 and older can learn to swim. In fact, participation in formal swimming lessons can reduce the risk of drowning among children under the age of 4 years. Having them wear a proper life vest or swim aid is one of the best ways to protect them while they are learning to swim – and give you the assurance that they'll stay afloat if they run into trouble in deep water.
Here are some of the most popular swim aids for young children:
USGC Approved Life Vest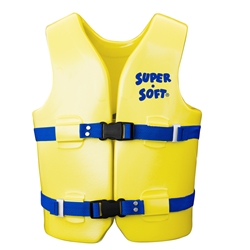 Although not specifically designed for learning to swim, a child's life vest can be used to provide buoyancy and security in the water.  Of the two types for children, Type III life vests are best for swimming.  They're designed for comfort and come in styles for different boating activities and sports.  The Super Soft Type III life vest works well for beginning swimmers who have experience in the water. It's made of soft, comfortable vinyl coated foam and has easy to close snaps and adjustable straps.  Note that children's life vest sizing is based on the child's weight and not their chest size, as with adults.  The Super Soft life vest comes in three sizes to fit children 30 to 90 pounds.
Puddle Jumper Deluxe Life Jacket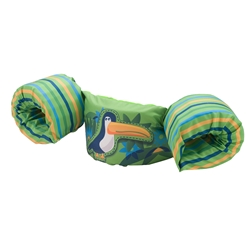 Comfort is why the Stearns Puddle Jumper Deluxe Life Jacket is such a big hit amongst parents and children!  Made from a soft, woven polyester that reduces chafing, the Puddle Jumper is designed so children can move and swim freely without the jacket riding up around their necks the way traditional life vests often do.  Best of all, its Coast Guard approved, so children can use it in pools, lakes, boats and the beach.  Fits children between 30-50 pounds.
Learn-to-Swim Tube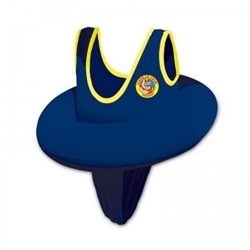 For toddlers and young children under 35 pounds, a learn-to-swim tube trainer is a safe way to introduce them to the water and build confidence.  Swim tubes are basically a rubber tube that the child wears like a piece of clothing.  The cloth tank top slips comfortably over the child's head and the bottom strap fits securely between the legs. Wearing a swim tube, children will enjoy freedom of movement while floating upright or in a swimming position.
"Swimmie" Arm Floats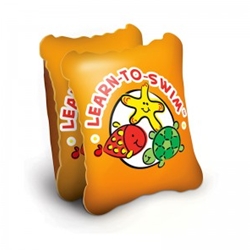 Floating in the water doesn't come naturally for many beginning swimmers. Learn-to-Swim Arm Floats – often nicknamed "swimmies" – are inflatable arm bands that offer beginning swimmers comfort and dependability.  Swimmies are great for beginning swimmers who already know how to keep their head out of the water.  They provide just enough buoyancy so children can relax in the water and focus on learning their strokes and kicks.
Keep emergency equipment at hand
Backyard pool owners should always keep emergency equipment within arm's reach.  This might include a throwable ring buoy that can be tossed quickly to anyone struggling in the water, a reaching pole or a shepherd's crook. It is also wise to have a phone in the pool area.  For more information on how to prevent child drownings, see these guidelines published by the CDC.
Pool safety is an ongoing responsibility
Adults need to be alert and vigilant when children are in the vicinity of a pool, especially when it is in their own backyard. Only 2% percent of child drowning incidents occur at a public beach or pool, whereas 65% of children drown in their own backyard pool and an additional 33% at the home of a relative or friend.
Pool safety is your personal responsibility, and seconds count in preventing death or permanent injury. Learning proper pool safety procedures and life saving techniques like CPR is critical.
Sources: U.S. Consumer Product Safety Commission (CPSC) and the Centers for Disease Control and Prevention (CDC).