OK folks, the holidays are over and the new year has begun, so you have no more good excuses for not taking the time to winterize your home. If you want to reduce your energy bills, keep your family comfortable and help protect your home from ice, snow, floods and freezing temperatures this winter, here are nine easy home winterizing projects you can tackle in just a couple of weekends (in between watching the marathon of football, basketball and hockey games!).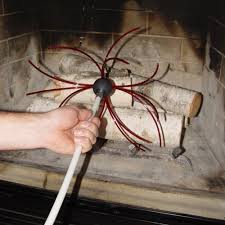 1. Insulate Water Pipes and Water Heater Tank
Insulating your water pipes and hot water heater is a relatively easy project that can help trim your water heating costs by raising the temperature 2° to 4°, allowing you to get piping hot water on a lower setting.  According to the Department of Energy (DOE), insulating your hot water heater will trim 4% to 9% off your water heating costs.  Both projects are particularly helpful if your water pipes run through a cold or unheated basement.
2. Winterize Outdoor Water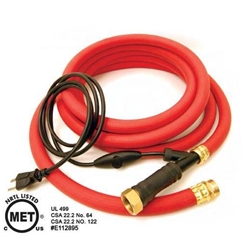 Walk around the house and make sure all outdoor water faucets are turned off via the shut-off valves in the basement.  Leave faucet handles open to prevent freezing and cracking.  Disconnect, drain and store garden hoses in the garage or shed. If they are already frozen, thaw and drain them in your bathtub before storing. If you need the hose during the winter months for pets or for filling an outdoor hot tub or pond, get a thermostatically-controlled rubber hose that you plug in for 20 minutes before using.
Empty your outdoor spa, hot tub or whirlpool if you won't be using it this winter.  Use a Quick Drain wand to quickly syphon water and remove debris at the same time.
3. Clean Chimney and Flue
Keep the fireplace damper closed when not in use and replace the damper door if it is deteriorating.  On a day when there's no precipitation, use a do-it-yourself chimney cleaning system to remove soot and creosote from chimneys and flues. This will help prevent chimney fires and improve the efficiency of your wood stove or fireplace.
4. Upgrade Your Thermostat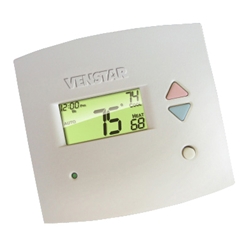 According to the U.S. Department of Energy, you can save 5% to 15% a year on your heating bill by turning your thermostat back 10° to 15° for 8 hours.  Make that task easy by replacing your manual thermostat with a programmable thermostat that will lower the heat automatically when you go to bed or to work and raise it when you return.
5. Prevent Indoor Flooding
Sump pumps are one of the most effective ways to protect against catastrophic basement floods caused by high water tables, heavy rains or melting snow and ice. Add a cellular pump alarm to your system to receive a text message alert on your cell phone if your sump pump stops working due to a power outage or malfunction.
To receive alerts of unwanted water near other appliances or on the basement floor, install a water alarm.  And to protect against messy damage caused by a leaky washing machine or hot water heater, install an automatic water shut off valve, either a "whole house" or "single appliance."
6. Protect Against Destructive Animals and Pests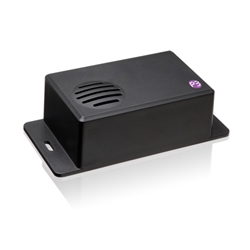 Pesky animals, rodents and insects looking for food and warmth can invade your house and yard in the wintertime.   Even vehicles are vulnerable to small animals that like to nest under the hoods of cars, lawnmowers, boats and snowmobiles and chew on the wiring. An electronic animal and pest deterrent is an inexpensive but highly effective device that uses high-intensity ultrasonic sound waves that irritate critters and drives them away.
7. Get Ready for the Next Power Outage
Stock up on bottled drinking water, non-perishable foods, batteries and firewood to get you through the next inevitable winter power outage. Â Prepare for hours or days without power by keeping these other useful devices to have on-hand:
8. Inspect for Cold Air Leaks
Energy Star estimates that sealing the leaks around your home can help you shave as much as 20% off your heating and cooling costs.  Take the time to inspect your home's exterior doors, windows and other outside openings (like dryer vents and wiring) for drafts and install weather-stripping and caulking where you detect cold air leaks.  Apply heat-shrink window insulation film to glass windows to block drafts and add insulation in attics.
9. Arm Your Home with a Freeze Alarm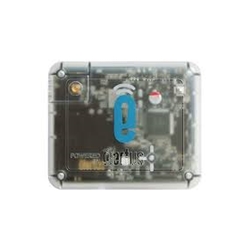 Freezing pipes due to a furnace malfunction or power outage are a big problem in the winter.  Whether you anticipate traveling for weeks or just days at a time this winter, look into getting a device called a freeze alarm to monitor the temperature inside your home and send you an alert if the temperature drops dangerously low or the power goes out.  There are a range of freeze alarms to choose from, many of which can also be used to monitor things like water or motion.
Other DIY Home Projects
If you get through all of these DIY projects to winterize your home and are looking for other ways to pass the time until the weather warms up, take a look at this Home Maintenance Checklist for Spring for more ways to get your property in shipshape.