Keeping seniors safe during the long, cold winter can be a challenge for family members and caregivers, especially if their seniors live alone. Â Loss of heat, power outages, isolation, hypothermia and dehydration are big concerns, as are hazardous road conditions for seniors who are still driving. Â If you have a senior who lives independently, here is a checklist of important steps for keeping them comfortable and good health this winter.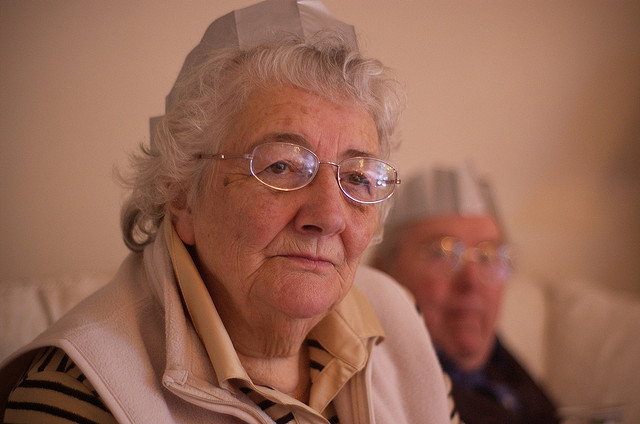 1. Â Check the Heating System
Check the furnace –Â To avoid problems with the heating system when winter is in full swing, schedule a furnace inspection early in the season. Â Have the contractor clean or replace filters and make any necessary repairs.
Pre-schedule fuel deliveries — Early in the heating season, schedule a delivery of home heating oil or propane and monitor fuel levels as winter progresses. When levels fall below a quarter of tank, schedule a fuel delivery.  Financially-strapped seniors may be eligible for state aid to purchase heating fuel.  (See the U.S. Department of Health and Human Services website for information on state and utility-funded energy programs).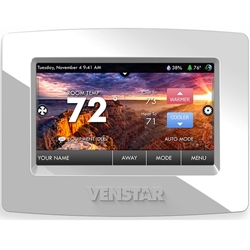 Install a freeze emergency alarm — To receive an alert that your senior's home has lost heat due to a furnace failure or power outage, set up a freeze alarm that will automatically contact a family member or caregiver when the indoor temperature plummets. Depending upon the model you pick, the freeze alarm will either call, text or email you, other family members or a neighbor.  Click here for information on how to pick the best freeze alarm for your senior's home.
Add a remote thermostat — If your senior's home has an Internet connection, consider replacing their manual thermostat with an Internet remote thermostat that allows you to remotely monitor and adjust the temperature in your senior's home from anywhere so you can be sure that they are warm and comfortable at all times. Â With a Venstar ColorTouch or BAYWeb Internet remote thermostat, you can also get high and low temperature alerts.
2. Â Stock Up on Food, Water and Meds
Buy extra food and bottled water — Prepare your senior for being housebound during inclement weather by stocking the cupboard with a week's supply of non-perishable food and a couple of gallons of drinking water. Get your senior a hand-operated can opener to use during power outages.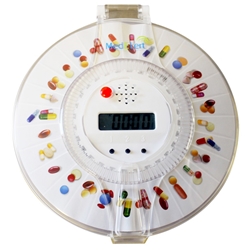 Fill prescription medications – Don't let important meds run low during the winter.  Switch your senior's prescriptions to a local pharmacy that makes home deliveries or sign up with a mail order pharmacy so no one has to venture out in bad weather to pick up medications. Get them an automatic pill dispenser or the innovative "Reminder Rosie" voice controlled clock to remind your senior when its time to take her meds.
3. Â Prepare for Power Outages
Provide an alternative source of heat – Seniors should have a safe (non-electric) way to stay warm during power outages, such as a wood stove, kerosene heater or efficient wood-burning fireplace. But since burning wood or kerosene can produce deadly CO gases, Make sure the area is properly ventilated and install a carbon monoxide detector and a smoke detector.  Better still is a monitoring system like the Sensaphone 400 and smoke/CO detector accessory that will automatically send telephone alerts to family or friends if there is a smoke or toxic gas emergency.
Stockpile flashlights and extra batteries — Make sure your senior has adequate lighting sources during blackouts.  In addition to conventional flashlights, get your senior a hand-crank flashlight that works without batteries.  For instant illumination in key rooms and hallways, plug in automatic rechargeable nightlights that light up when the power goes out.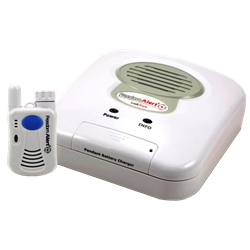 Give them a reliable way to call for help – A power outage can make it difficult or impossible for seniors to get help, especially if there is a medical emergency.  Set them up with a personal emergency alert system so they can contact family, friends or emergency services if they need assistance, such as the wireless Freedom Alert that allows two-way communication with family and friends plus the ability to call 911.  Or consider a smartphone-controlled system like the Oplink Connected Care that lets family and caregivers monitor live video of their senior on a smartphone.
Keep their cell phone charged — Staying in touch with the outside world during a power outage is important for home-alone seniors, but keeping mobile devices charged is a problem without electricity. Â Get your senior an emergency cell phone charger like the PowerNow Grande and they'll be able to power up their cell phone during prolonged power outages.
4. Â Encourage Good Health Habits
Prevent dehydration –Â Remind your senior to eat well-balanced meals that include lots of vegetables and fruits and drink plenty of water.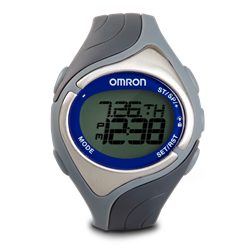 Avoid hypothermia – Older adults are especially vulnerable to hypothermia, which can be deadly if not treated quickly.  To avoid danger, seniors should stay inside during extreme cold and windy weather; keep their home heated to between 68o – 70o F; and dress in layers including long underwear, socks, slippers and sweaters.  If you want to make your senior really happy and comfortable, install a remote controlled wireless thermostat in their home and they'll be able to adjust the heat without getting up from their seat!
Encourage indoor exercise – Seniors who are mobile should move their bodies by walking in place or doing laps around the house.  Wearing a pedometer or heart rate monitor can encourage movement while helping them exercise within safe limits.
More Info on Seniors at Home
For additional information on how to help your senior continue to live safely in their own home, read "There's No Place Like Home — For Growing Old" on the NIH website and take a look at the many articles on Independent Living found in the diycontrols.com weekly blog.