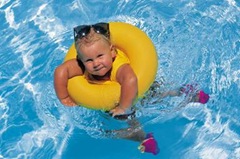 A pool alarm is one of the most effective ways to prevent backyard drowning of unsupervised children or pets. Once a child slips under the water, it only takes minutes for her to lose consciousness, followed soon by permanent brain damage or death. To prevent an accidental drowning in your backyard, get a pool alarm that will alert adults of the emergency so they can intervene, before it's too late.
To help you choose the right pool alarm for your home, here's an overview of the different types of pool alarm systems that work well in above ground swimming pools and some recommended models for each type.
Surface Wave Detection
A surface wave detection pool alarm floats on the water's surface. When a child or pet falls into the pool, the waves created by the fall trigger the alarm.
How it Works — 

This type of pool alarm incorporates an electrical circuit that includes two contacts. One contact rests in the water and the other contact (above-surface contact) rests above the water. When the above-surface contact is touched by water from a surface wave, the electrical circuit is completed and an alarm sounds.
Advantages —

Easy to set up, requires no installation. Battery powered (usually 9V or AAs). Sensitive to low weights; good for protecting small pets. Also works in spas and in-ground pools.
Disadvantages — Some models are prone to false alarms caused by wind and heavy rain or falling leaves, branches and objects. Must be removed during swimming.

Featured Surface Wave Models:
Sensing ring is adjustable to activate only when an object the size of a child or pet falls into your pool.  Installs in seconds, no tools required. Has the electronics to transmit to the in home receiver but does not come with one. Works in any shape of pool or type:  above- ground, in-ground and inflatable. Corrosion-resistant for long life. Powered by 9-volt battery. Has a low battery indicator. Can be used with a solar cover. FCC approved. Made in the USA. Comes with a 2-year warranty.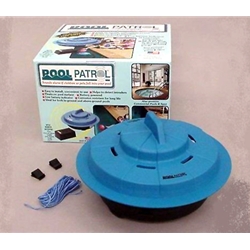 Pool Patrol PA-30 Pool Alarm with Wireless Remote Receiver
Same features as the Pool Patrol PA-25 Pool Alarm but also comes with an electronic solid state remote receiver so alarm will sound at poolside and in the house (up to a distance of approximately 200 feet). Remote receiver can work with home security systems.
Subsurface Wave Detection
Subsurface wave detection pool alarms detect movement below the surface of the water.
How it Works — This type of pool alarm uses below-water sensors that are activated by wave-induced pressure changes. There are two basic designs: one relies on the movement of a magnetic float below a magnetic sensor and the other relies on a pressure-sensitive switch.
Advantages — More consistent in alarming and less likely to false alarm than surface wave detection alarms, per a study performed by the U.S. Consumer Product Safety Commission (CPSC). Do not have to remove during swimming. Adjustable sensitivity. Also works in spas and in-ground pools. Can be used with a solar cover.
Disadvantages — Most models require installation onto the side of the pool, which is not always possible for soft-sided (inflatable) above-ground pools.
Featured Subsurface Models:
This is a brand new design and is the only subsurface wave detection pool alarm that doesn't need to be installed to the side of the pool or deck, making the Poolguard Safety Buoy ideal for above ground pools, especially soft sided pools, spas and small in-ground pools. Comes with a remote receiver so alarm will sound at poolside and in the house (up to a distance of approximately 200 feet). Tamperproof design alarms upon removal from pool. ASTM F2208-08 certified. Made in the USA. Comes with a 1-year warranty.
PoolEye Above Ground Pool Alarm System
Sensor mounts under top ledge of pool, siren sits on vertical support post outside of pool. Detects objects 15 lbs. or more. Adjustable sensitivity. Automatically resets in three minutes. Has a childproof locking on/off switch with audio indicator. Water-resistant, weatherproof construction. Powered by four AA batteries. ETL-listed to UL standards. Comes with a 6-month warranty.
Personal Immersion Detector Wristband
This pool alarm activates when a person or pet wearing a special wristband or pet collar falls into the water, which sounds a remote alarm.
How it Works — The wristband or pet collar is fastened securely on the wrist or around the animal's neck. An alarm alert at a separate base station is triggered when the battery-powered sensor on the wristband or collar is immersed in water, such as when a child falls into the pool. Child-sized wristbands come with a locking key to prevent the child from removing the band.
Advantages — Provides continuous protection to the wearer with no risk that the unit has been deactivated while others are swimming or the pool is being cleaned. Alarms immediately. No setup or installation. Portable — can be used on a boat or brought on vacation. Works in all sizes of pools or spas.
Disadvantages — Alarm could activate and false alarm when the wristband becomes wet from normal activities like washing hands or walking in the rain. Does not protect children or pets who are not wearing special wristbands or collars.
Featured Model:
Base station alarms instantly when wristband/collar are immersed in water and continues to sound until it is reset. Works in all fresh water (pools, spas, lakes, ponds or rivers). Children like wearing colorful turtle wristbands. Expandable – easy to add wristbands and collars of the same color. No installation required.  Comes with a 12-month warranty on base station and accessories and a 6-month warranty on turtle sensors.
Increase Your Layers of Protection
Pool alarms provide invaluable protection for children and pets and are often required by law.  For an additional layer of protection, your pool alarm should be used in conjunction with other types of alarms — such as a gate or door alarm — which will alert you when an unsupervised child or pet first enters the pool area and before they get near the water.