A freeze alarm is a device that monitors the temperature inside your home and provides a warning if it dips dangerously low, before your pipes freeze and burst.  Freeze alarms are one of the best ways to protect your home against the kind of catastrophic water damage that this situation can cause.  Frozen pipes are often caused by prolonged power outages or failed heating systems, which can be a real problem for absentee homeowners who aren't around to monitor the pending crisis.  That's where a freeze alarm comes in!  If you are in the market for a freeze alarm, here are some of the most common questions we get from our customers to help you choose the best model for your situation.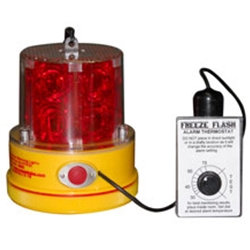 What is the most popular freeze alarm?
Because there are various types of freeze alarms, there really is no single best seller.  As you can see in this Freeze Alarms Comparison Chart, there are many types of freeze alarms with a wide range of features. To determine which freeze alarm is best for you, begin by deciding if you want "local" alarm or a "call out" alarm:
Callout alarms will send you a notification via a phone call, email or SMS (text message).   If your home is in a remote location without neighbors or if you want the assurance that you'll be notified directly, choose a callout alarm (either fixed degree or adjustable degree).
I know I want a callout freeze alarm so I'll receive low temperature alerts directly, but how do I narrow down the choices?
You can start narrowing down the many choices of callout freeze alarms by looking at these features:
1) Communications Mode  — Pick the communications mode your callout freeze alarm will use, based on what is available at your site — landline phone, cellular or Internet/WiFi.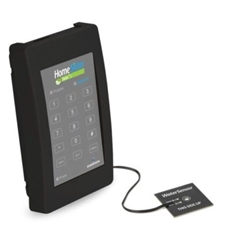 The article "Pick a Freeze Alarm Based on How it Communicates" will walk you through that decision making process.  
2) Temperature Setpoints  — Next, decide if you want the ability to customize the temperature set points that trigger an alarm notification.  If that's an important feature for you, choose an "adjustable degree" freeze alarm, such as the Deluxe Freeze Alarm.  (Note that adjustable degree freeze alarms tend to be more feature-rich overall.)  Otherwise, consider a basic "fixed degree" freeze alarm with high and low temperature set points preset by the manufacturer, such as the Homesitter Temperature, Water and Power Alarm.
How will my freeze alarm notify me when the temperature in my home is out of range?
There are several ways you can be notified, based on which communications mode your freeze alarm uses: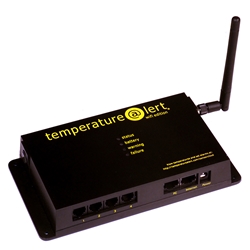 Landline phone freeze alarm – Sends voice messages to your phone (either factory-recorded or a recording of your own voice).   Example: FreezeAlarm Dialer.
Deciding on how you want to be alerted – phone call, email or text message – is an important consideration when picking a freeze alarm.  For more specifics on how each freeze alarm sends notifications, look at "What you will hear when it calls you" in the Freeze Alarms Comparison Chart.
Do I need a landline phone connection in my home in order for the freeze alarm to work?
No, you do not have to have landline phone service in your home in order to use a freeze alarm.  You can choose a freeze alarm that communicates via cellular or Internet or you can hook up a phone-based freeze alarm to a cellular terminal, which allows the freeze alarm to communicate via a cellular signal instead a landline connection. NOTE:  Before purchasing a cellular freeze alarm or cellular terminal, confirm that there is a strong, steady cell signal at your location.  Many rural communities do not have reliable cell phone service.   And if you opt for an Internet freeze alarm, remember that you'll need year-round Internet service and will have to leave your router on at all times.
How many phone numbers will my freeze alarm call?
First, note that only phone-based freeze alarms send out phone call notifications.  The number of phone numbers called varies by model, from as few as three phone numbers to as many as nine.  When programming your freeze alarm, we recommend including phone numbers for more than one family member, as well as a trusted neighbor or caretaker, to ensure that someone receives and responds to the call. For more information on how many phone numbers each model will call, see "Calls how many phone numbers" in the Freeze Alarm Comparison Chart.
Will the freeze alarm continue to call me if I don't answer the phone?
Yes.  If you don't answer the initial call, your freeze alarm will cycle through all of the programmed phone numbers and continue calling until someone picks up.  Some models require that you "acknowledge" the call using a code, such as the "#" sign or a security code number. See "Number of call retries" and "How to acknowledge" in the Freeze Alarms Comparison Chart for specifics on each model.
What will I hear when I receive a call from my freeze alarm?
Some freeze alarms have factory-recorded voice messages and others let you make your own recording.  Most freeze alarms specify the type of alarm condition that has occurred, such as "power failure alert" or "freeze alert."   Some models also state the current temperature in the house, so you can better judge the severity of the situation. See "What you will hear when it calls you" in the Freeze Alarms Comparison Chart for specifics on each model.
How many email or text messages will my Internet freeze alarm send?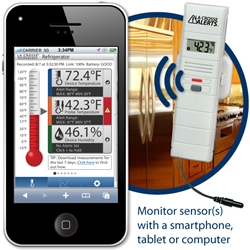 An Internet Freeze Alarm will send only one email notification per event (such as a freezing temperature alert or power outage), however, you can program the device to send emails to multiple email addresses. Example:Â  Online Temperature and Humidity Wireless Alert System by LaCrosse Technologies.
Will my freeze alarm call me when there is a power outage?
Fortunately, most freeze alarms do monitor for power outages, which is good thing since power outages are the number one reason for your heating system to fail, which will lead to a sudden and dangerous drop in temperature.   (Note that all freeze alarms have some form of battery backup so they will continue to operate during a power outage.) See "Power outage notification" in the Freeze Alarms Comparison Chart for specifics on each model.
Can I call my freeze alarm to find out what the current temperature is in my house?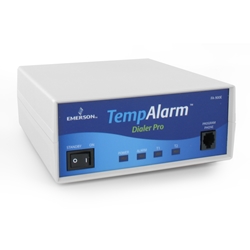 Yes, most phone-based freeze alarms – such as the Deluxe Freeze Alarm — allow you to dial in and hear a voice recording that announces the current temperature.   Many Internet and cellular-based freeze alarms also provide temperature status through an online dashboard you access via your computer or smartphone.  The Temperature@lert Cellular Temperature Monitor System is an example of a freeze alarm that allows you to view the current temperature, historic data and program alerts via its dashboard. See "Call-in to hear exact temperature" in the Freeze Alarms Comparison Chart for specifics on each model.
Can I control my thermostat remotely using my freeze alarm?
Being able to adjust the thermostat via a phone call or email is a wonderful convenience, especially for vacation homes.  There are a few freeze alarm systems that allow remote temperature control.  Note that you'll need to have the main "controller" unit and a compatible thermostat.  An example of this system is a Sensaphone 400 Cottagesitter paired with the compatible Aube FGD-0064 thermostat.  To learn which models have remote temperature control, see "Remote Control Thermostat Compatible" in the Freeze Alarms Comparison Chart.
Can I add other sensors to my freeze alarm?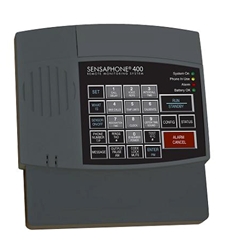 Yes, most freeze alarms do accept optional sensors for monitoring other conditions like floods, humidity and intrusion. For details, see "Additional conditions monitored" in the Freeze Alarms Comparison Chart.
Is a "wireless" freeze alarm the same as a "cellular" freeze alarm?
No, "wireless" simply means that the freeze alarm system communicates wirelessly with its sensors and other components.  Since there are no wires to run, installation of a wireless system is easy.  The WisDom Wireless TempAlert Emergency Dialer Kit is an example of a wireless freeze alarm system.