Another power outage is in your future, regardless of where you live or what the cause is – be it a polar vortex snowstorm, tsunami, tornado or ordinary thunderstorm.  If it seems like the number of power outages each year is on the rise, you are absolutely correct.  According to a report by CNN a few years ago, the number of non-disaster related power outages each year is up a whopping 124 percent over the late '90s!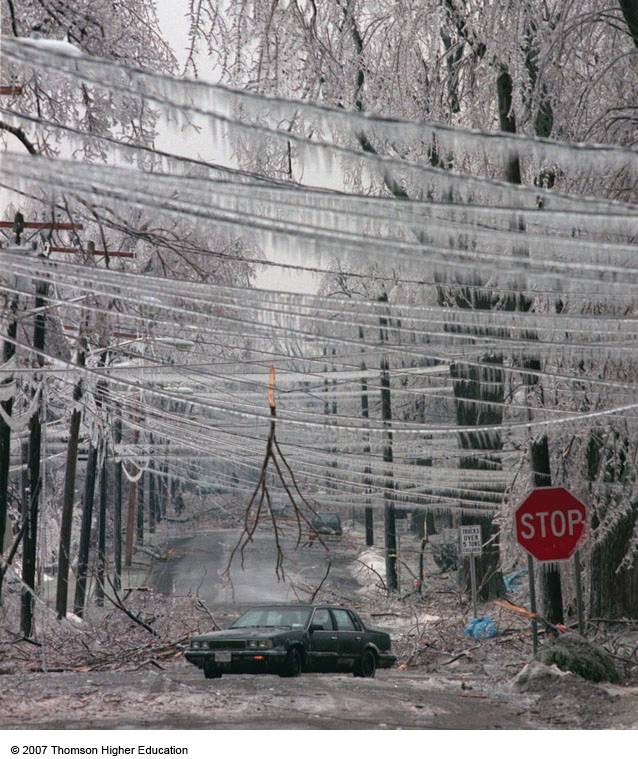 A big part of the problem is that our nation's electrical infrastructure is getting older and more vulnerable.  An increase in electricity usage is another factor.  And although there is a lot of talk about upgrading the power grid, not much has been done to date, so the frequency of power outages will continue.

Be Prepared for that Next Power Outage
So, since we have to accept that power outages are inevitable, why not get prepared for the next one coming your way?   A backup generator that powers all of the electrical appliances and gadgets in your house is a great investment, if you can afford one.  But if you can't, here are some handy devices that will help you cope with the next power outage.
Weather Alert Radio / Flashlight to Keep You Informed
A weather-alert radio is a must-have for all households to get automatic official, up-to-the-minute information on severe weather, local hazards and other emergencies.  Two excellent weather alert radios are the Midland 22-Channel GMRS Emergency Crank Radio and the WeatherX AM/FM Weatherband Radio, both of which have a built-in flashlight and can be powered by batteries or a hand crank.
Super Bright Hand-Powered Flashlight
Flashlights with fresh batteries are always on the top of the list for power outage preparedness, but what if the blackout outlasts your battery supply?  The answer is a self-powered Wind 'n Go emergency flashlight with three bright LEDs that can be recharged by hand.  One minute of cranking yields up to an hour of light.  This flashlight can also be used to charge most cell phones using the universal Nokia adaptor (included).
Emergency Charger for Cell Phones and Tablets
Staying in touch with the outside world during a power outage can be critical, but keeping mobile devices charged is a problem without electricity.  The solution is an emergency charger to power up your cell phone or iPad.  New on the market is this PowerNow Grande emergency cell phone charger that retains 97% of its charge after one full year on the shelf (compared to only three months for most competitive chargers).  Its 5,600 mAh lithium-ion battery charges an iPhone in under three hours, up to three times, before needing to be recharged itself.
To charge multiple smartphones or tablets, try a battery backup power cord with 6 outlets (3 for charging and surge protection, 3 for surge protection only).
Carbon Monoxide Alarm with Battery Backup
When the power and furnace are out for a long time, people come up with all sorts of ways to stay warm, some of which can produce deadly carbon monoxide (CO) fumes.  Using a portable propane or kerosene heater indoors, opening the oven to warm the kitchen, or running a gasoline generator in a poorly vented place are all risky.   Since CO is both odorless and invisible, the best way to protect your family is with a CO alarm with battery-backup that will continue to operate when the power goes out.
Solar-Powered Floodlights for Outdoor Safety
It is incredible how dark your yard can be during a power outage!  Keep family and friends safe by installing a few solar-powered floodlights around the perimeter of your house to light up walkways, driveways, garages and sheds.  These floodlights turn on when motion is detected at night. When charged in full sunlight, the light can activate up to 150 times when on for 60 seconds at a time.  These floodlights are great for added security to scare away intruders.
Rechargeable Nightlight for Indoor Safety
In the event of a power outage, the Datexx Sentina LED nightlight automatically lights up hallways, rooms and basements so you'll be able to see until the power is restored.  Unplug the unit and use as a portable or emergency flashlight. Three rechargeable NiMH batteries are included and provide enough power for eight hours of light.
Sump Pump Alert Alarm to Warn of Potential Flooding
Electric sump pumps don't pump during power outages and the unfortunate outcome of that can be a flooded basement!  A battery-powered sump pump alarm will sound a loud warning if the water level in your sump pit rises to a dangerous level, so you can take preventive action before the pit overflows.  Uses a standard 9-volt battery.
And in the event you aren't home when a sump pump emergency is imminent, the PumpAlarm Cellular Water Alarm sends text message alerts to your cell phone or mobile device when the water level in the pit gets too high or there' s a power outage.  In addition to a sumpbobber, this kit includes a water sensor that you can place anywhere prone to water damage.
More Power Outage Tips
Before the next power outage, be sure to stock up on bottled drinking water, non-perishable foods, batteries and firewood.  It is also a good idea to have a corded landline phone on hand to plug into the phone jack.  (Unlike cordless phones, corded phones continue to operate during blackouts because they get the power they need through the phone line.)  For a comprehensive list of tips to help you prepare for the next power failure, check out these guidelines published by the CDC.