Most "vacation rental by owner" (VRBO) entrepreneurs have two ongoing goals: to increase profits and decrease the amount time they spend managing their property. With recent advancements in technology, there are now a range of DIY devices that can help vacation rental homeowners achieve both goals. From keyless entry to remote controlled thermostats, these web-enabled gadgets* make it easier for owners to manage their rental property, reduce expenses and also enhance their tenant's overall experience. Here are three must-have DIY devices you'll want for your vacation rental home property: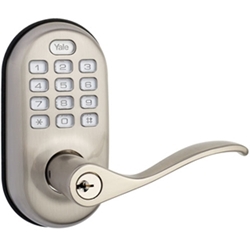 Keyless Entry Puts an End to Mailing Keys
Getting the keys into the hands of your vacation home tenants on time is absolutely critical, but copying and mailing keys the old fashioned way is both a chore and an expense. It can also be a real security risk because at the end of the year, you may wind up with umpteen copies of your house key in circulation.
If you live locally, a programmable lock box is a good alternative to copying keys. Just remember to change the code after each tenant. A wireless keypad door lock connected to a Z-wave home automation system like the VeraEdge Home Controller is an even better way to give tenants access to your home — especially if you don't live nearby – because this system allows you to set a passcode to open your door conveniently using your smartphone or computer. After your guests leave, you can change the passcode remotely for the next tenants.
EXTRA BENEFIT:  A wireless keypad also eliminates the possibility that tenants will lose the keys or get locked out of the house accidentally.
Smart Thermostat Knows How and When to Save Energy
Energy is one of the biggest expenses in a rental home's budget. The answer to lowering energy bills is a smart thermostat that allows you to control your vacation home thermostat from anywhere using a mobile device or computer. Use your smart thermostat to pre-heat or pre-cool your rental house right before your tenants arrive (they'll love you for that!). You can also set limits for how high or low they can adjust the temperature to further conserve energy.
EXTRA BENEFIT: With a smart thermostat like the BAYWeb Internet series, you can add motion sensors that sense movement in the house so the thermostat can adjust temperature automatically when people are in the house and after they go out.
Outdoor Surveillance Cameras Give You Eyes on Your Property
Do you find yourself wondering if your tenants have left yet or if they remembered to put the garbage cans out? With an outdoor video surveillance system with remote access, you can monitor the live action around your yard, driveway and garage from your smartphone or computer, anywhere at anytime. In addition to discreetly checking in on your tenants, you can use your outdoor surveillance system to check up on your property when your home is vacant. For round-the-clock monitoring, be sure to pick a system with high-resolution night vision cameras.
EXTRA BENEFIT: If a trespasser steps onto your property, your surveillance system can be programmed to send instant email alerts to your smartphone or computer.
Other Remote Management Gadgets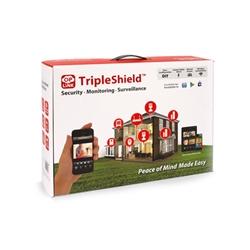 As long as you have full-time Internet on site, there are a lot other web-enabled DIY gadgets that you can use to manage your VRBO property from your computer or mobile device that will make your job easier and save you money. These include:
For more clever DIY devices for your rental home, check out the diycontrols.com online store.
*Web-enabled devices require a fulltime WiFi connection on the premises.