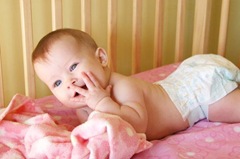 A video baby monitor is a must-have for all new parents, but did you know that for a little more money you can buy a "plug and play" digital wireless surveillance system that does everything a video baby monitor does, plus lots more? As your family grows, the digital surveillance system that you bought for watching and listening to the baby can also be used to monitor other children in other rooms, as well for watching activity in the backyard. You can also use the system for home security by placing cameras at your home's entrances and driveway.
One of the biggest advantages of a digital wireless surveillance system over a typical one camera/one receiver video baby monitor is its expandability, which allows you to add cameras for monitoring additional children or locations. Another big benefit of using a digital surveillance system over a conventional video baby monitor is its ability to eliminate static interference caused by other cordless phones, WiFi routers and other wireless devices.
So before buying that off-the-shelf video baby monitor, we suggest that you take a look at the features listed here for a digital wireless video surveillance system, and then decide which gives you more bang for your buck!
Fast and Easy Setup
A wireless plug and play digital surveillance system can be set up in minutes. The cameras and receiver communicate wirelessly, so there are no extra messy cables. Position the cameras, plug them into the wall outlet and you're ready to go!
No Static Interference
The superior digital technology used in today's wireless surveillance systems is interference-free — there's none of the hissing, static or buzzing that you get with a typical baby monitor. The signal between camera and receiver/monitor remains strong and secure up to 450 feet away. Neighbors can't pick up your signal, and you won't be bothered by theirs either.
Expandable…Grows with Your Family
Cameras can be added as your needs evolve. While baby is napping in the nursery, you can also monitor your older children playing outside or in the playroom. Many digital surveillance systems accept up to four cameras. Use extras for security purposes.
Wide-Angle Viewing up to 20 Feet Away
Do you have two children sharing a bedroom? View both of them while they sleep with one camera. These cameras are professional quality and can focus up to 20 feet away while capturing a 60+ degree angle.
Long Range Night Vision
See your little ones clearly while they sleep, even at night time. Designed for security surveillance, these cameras employ sophisticated infrared LEDs that allow you to see up to 40 feet away in complete darkness!
Large Screen Monitor/Receiver
No doubt you'll appreciate seeing your child's image on a large, clear 7" to 9" LCD screen that's about three times the screen size of a handheld video baby monitor. For viewing and listening on an even larger screen, the portable LCD monitor connects easily to your TV. Keep it in the kitchen while preparing dinner and take it with you to the bedroom at night.
View Multiple Cameras Simultaneously
With a digital surveillance system, you really can watch all of your children at the same time! Split-screen viewing allows you to watch live feed from all of the cameras simultaneously. Or view each location individually using the toggle switch.
Two-Way Intercom
Sooth baby or remind your bigger kids its "lights out" using the intercom capability of your digital surveillance system. Each camera has a built-in a microphone and a speaker. Position an extra camera at your home's entrance so you and your children can speak to visitors without having to open the door to strangers.
Summary
In addition to these features, there are many other advantages to using a digital wireless surveillance system instead of a conventional video baby monitor, including the ability to pre-program and record activity for later viewing. You can expect to pay about $400 for a digital wireless surveillance system with two cameras and a mid-sized LCD monitor. When you considering that a one camera/one receiver video baby monitor with limited capabilities sells for about $200, it's easy to rationalize spending a little more for an expandable digital surveillance system that can grow with your family and do double-duty as a home security system.