The American Red Cross who says "Preparation is the best protection against the dangers of a hurricane" recommends using a NOAA weather radio to get critical information from the National Weather Service (NWS) to track the progress of a storm.  Also called a "weather alert radio," a NOAA* weather radio provides up-to-the minute information on severe weather and other important emergencies provided by the NWS and the Emergency Alert System (EAS).
* NOAA, which stands for National Oceanic and Atmospheric Administration, is is a scientific agency within the United States Department of Commerce focused on the conditions of the oceans and the atmosphere.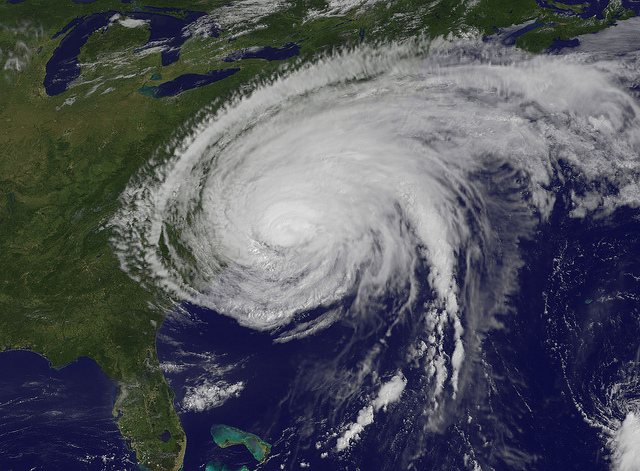 Benefits of a NOAA Weather Radio
NOAA weather radios are potentially life-saving devices with a lot of great features you can use before, during and after a hurricane or other type of emergency, including:
Automatic Early Weather Warnings — A NOAA weather alert radio provides early warnings of approaching weather, such as 

tornadoes, hurricanes, floods, ice/snow storms and other severe weather, so you will know when and where a storm will strike

.  Be sure to choose a model that has the "alert" feature, which automatically receives and announces NWS warnings, even if you haven't turned it on.
Operates During Power Outages —  Prolonged power outages are common during hurricanes, tornadoes and other types of severe weather, so NOAA weather radios have an emergency backup power supply (either alkaline and/or rechargeable battery or hand-crank) to ensure around-the-clock updates, even during blackouts.
Civil Emergency Warnings — In addition to weather updates, a NOAA weather radio also broadcasts civil emergency warnings including Amber alerts, nuclear accidents, terrorist attacks, land slides, earthquakes, food contamination and hazardous material spills.
AM/FM Radio — Many NOAA weather radios also have AM/FM bands as well as a clock and alarm, making them a useful everyday addition to bedrooms, kitchens or offices.
Choosing a NOAA Weather Radio
Although the National Weather Service does not manufacture any weather alert radios, they do allow radio manufacturers to use its name on qualified weather radios that receive its emergency broadcast signal and recommend users look for receivers with the Public Alert and/or the NOAA Weather Radio (NWR) All Hazards logo.
Note that all weather radios in the U.S. will pick up the NWR signal, but only those marked with the NOAA logo have been officially authorized by NOAA.  Weather alert radios made by Midland and Oregon Scientific meet NOAA's criteria.  Sangean makes a number of Public Alert certified models.
Most NOAA weather radios are affordably priced starting at around $40, but features very greatly.  Here are some unique options to look for when you are shopping for a weather alert radio:
Audible and Visual Alerts for Seniors and Heavy Sleepers
For people who are hearing and/or visually impaired, Midland offers a weather alert system that includes a weather alert radio, strobe light and bed shaker.  This package is also great for heavy sleepers or anyone who doesn't want to miss any emergency alerts due to loud household noises or other distractions.
S.A.M.E. Technology for Updates Specific to Where you Live
Weather alert radios with "Specific Area Message Encoding" or  S.A.M.E. technology, like the Midland WR-300, can be programmed to receive information specific to your geographic area. This minimizes the number of "false alarms" you receive for events which might be a far away from where you live.

Multilingual Broadcasts
Some NOAA weather radios, like the Oregon Scientific WR608, are multilingual and transmit alerts in French and Spanish, in addition to English.  This model is also portable and features S.A.M.E. technology.
Emergency Hand-Crank Power
Most weather alert radios come with an AC adaptor but also operate on battery power (alkaline and/or rechargeable).  But if you want to be sure you will always receive emergency alerts,  Midland and WeatherX offer weather radios with a hand-powered crank handle to recharge the radio during power outages.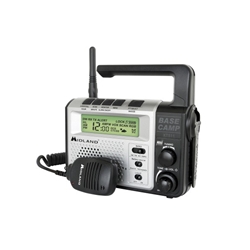 Other Ways to Prepare for a Hurricane or Weather Emergency
In addition to equipping your home with a NOAA weather radio to listen to up-to-the-minute information on severe weather developments, the American Red Cross and FEMA recommend families have basic emergency supplies on-hand to avoid frantic last-minute shopping trips for water, batteries and food.  Other recommendations include developing a family emergency plan on how to communicate and where to meet in the event that school or work closes early or an emergency evacuation is ordered.  For more information, go to Prepare Now for the Next Hurricane to Prevent Disaster.