Families with backyard swimming pools love pool accessories that make their pool more fun, safer and easier to maintain. Here are a few unique gadgets that deliver on these three levels!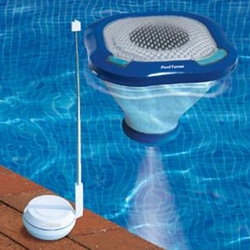 1)  For More Fun…Try a Floating iPod® Player
With a Swimline PoolTunes Floating Pool Speaker and Transmitter, you can listen to your favorite music in the pool or hot tub while your iPod is a safe distance away from the splashing water. The floating speaker is waterproof and submersible in up to three feet of water for up to 30 minutes. The transmitter broadcasts music wirelessly from your iPod to the floating speaker as far as 100 feet away.
Set-up for the floating iPod player is easy…just plug the transmitter into the earphone jack on your iPod (or other digital music player with a standard mini style output jack) and you can enjoy your music in and around your pool or hot tub without the hassle of rigging outdoor speaker wiring.
2)  For Easier Maintenance…Try a Pool Leveler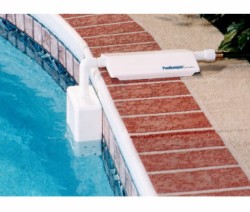 Filling the swimming pool is one of those time-consuming but necessary chores. If a pool is under-filled and the water level drops below the skimmer, the pump can run dry and result in serious damage to the pump motor.  A Poolkeeper Pool Water Leveler automatically adds just the right amount of water to your pool and turns the water off when the level you set is reached.
Pool levelers can be used on almost any style swimming pool, as well as most hot tubs, spas and fish ponds.  Just place the unit on the pool deck at the water's edge and attach it to a good grade garden hose.  If you have an above-ground pool, the pool leveler can be attached with a pair of special brackets.
3)  Monitor Pool Temp from Anywhere…Try a Wireless Temperature Alert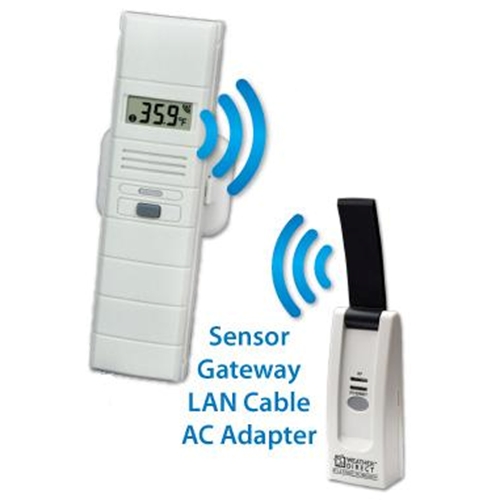 Checking the temperature of the water in your pool or spa has never been easier…or more convenient! With an Online Temperature & Humidity Wireless Alert System by LaCrosse Technology, you can use your computer to check the temperature of the water in your pool or spa from inside your home up to 200 feet away. And if you want to monitor the water temperature when you're away from home, sign up for the system's "Mobile Alert" capability and you'll receive email or text message alerts on your cell phone or mobile device anytime the water temperature goes outside an acceptable range due to a power outage, heater failure or change in the weather.
The Online Temperature & Humidity Wireless Alert System comes with a weatherproof wireless transmitter and wet probe sensor that you place in the water, plus a gateway (receiver) and LAN cable that plugs into a router or modem and sends the temperature information to a website.
Other Pool Accessories
For information on some other pool accessories you may want to get, follow these links to read about above-ground pool alarms, in-ground pool alarms, pool door and gate alarms and pet ramps and stairs.