Everyone loves summertime, and being mindful of summer safety is the best way to make the season even more enjoyable. As you gear up for the warmer weather, longer days and much anticipated family vacations, take a moment to review these suggestions and DIY products that will help keep your family happy and safe during the summer months.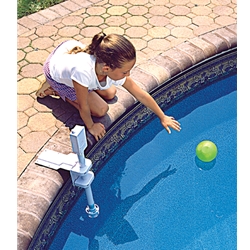 Pool Safety
Make your pool a safer place for your children, guests and pets by equipping it with the right safety devices. Adult supervision at poolside is the #1 way to prevent drownings, but it's important to also add other layers of protection.
Begin by securing the pool area with a gate alarm on the pool fence which will alert you when someone on the outside enters the pool area.

Next, install a door alarm on all interior doors that lead to the pool area. As soon as a child or someone else opens the back door, a loud alarm will sound.
A pool alarm will alert you if a person or pet falls into the water. There are different types of pool alarms — some are for above-ground pools only and others are designed for in-ground pools. Many pool alarms activate when the surface of the water is disturbed. Families of young children and pets often prefer the wristband type of pool alarm that activates if the wearer falls into the water. Choose the pool alarm that meets your needs best.
BBQ Grill Safety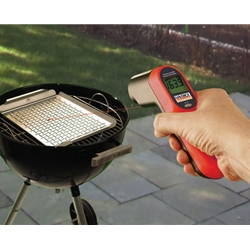 Barbecuing is a favorite summer pastime. Even non-cooks enjoy flipping burgers on the backyard BBQ grill!  Whether you use a charcoal, gas or propane BBQ grill, remember that there is always the risk of food poisoning and accidental fires when you are cooking or eating outside. Here are a few tips for safe grilling and outdoor dining:
The best way to prevent food borne illness is through proper food handling and storage. Refrigerate or freeze raw meats and poultry immediately when you get home from the market. Thaw frozen meats slowly in the refrigerator or place the package in cold water. Marinate meats in the refrigerator and not on the countertop.
Cook meats thoroughly to destroy harmful bacteria. Use a laser infrared surface thermometer to get an instant temperature reading of your preheated grill. A digital probe thermometer will take the guesswork out of checking meat or poultry for doneness.
For recommended temperatures and other outdoor cooking tips, use this handy Fact Sheet on Barbecue and Food Safety published by the USDA.
To prevent accidental grill fires, never use your BBQ grill indoors. Grills should be located away from the house, deck railings and overhanging branches when in use.
If grilling at night, light the grill area with a portable LED clip-on grill light so you can see what you are doing and better judge when the food is done.
Prevent grease fires by keeping your grill clean and removing fat and greasy buildups on the grills and in the grease collection tray.
Use only charcoal starter fluid to light a charcoal grill. After cooking, let hot coals cool completely before disposing in a metal container.
Teen Driver Safety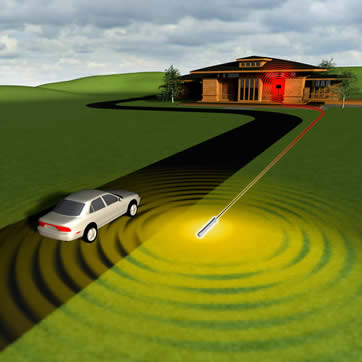 Between socializing, working, shopping and summer classes, teens lead a busy life during the summer months! If your teens (or their friends) are old enough to drive a car, worrying about their safety on the road and making sure they get home on time are likely to be big concerns. Take advantage of today's technology to track and monitor your teen's activity and give yourself some peace-of-mind.
If you are tired of waiting up at night for your teen to arrive home safely, install a driveway alert that will notify you with a beep, chime or flashing light when their vehicle enters the driveway.
With a GPS tracking device in your teen's car, you can monitor their location and speed in real time. You can even set boundaries and speed limits and get text messages and email alerts if your teen drives too far or too fast.
Home Safety
Crime data indicates that the majority of home burglaries occur in July and August during daytime hours. Burglars look for unoccupied homes with easy access, the greatest amount of cover and easy escape routes. If you think like a thief, you can minimize your risk by making your home less attractive to trespassers and burglars.
Trim back bushes and shrubs so burglars can't hide in their shadows and install motion detection lights around the house. For additional protection, set up a wireless motion detection alert system that will notify you with light and sound when people or vehicles approach your home or property. Additional sensors will allow you to monitor the entire perimeter of your property.
A driveway alert is another way to be warned that a vehicle or person has entered the driveway. One of the newest systems uses a solar powered wireless infrared break beam sensor. It's simple to install and requires no wiring.
Always lock your home's windows and doors, even if you are leaving  for just a short time. Use special timers to turn lights on and off to give the impression that your home is occupied, or, consider a home controller system that can automate multiple indoor and outdoor lights along with other appliances.
Did you know that homes protected by security systems are three times less likely to be broken into? There are lots of different DIY home security systems on the market that you can install yourself for big savings and professional-quality protection.
Keep Summer Fun and Safe
Keep summer fun by protecting your home and family and reducing  risks that lead to accidents. These summer safety products promote pool safety, BBQ grill safety, teen driver safety and home safety.  All of them make great gifts and are sure to appeal to do-it-yourselfers.