Stuff is still being designed and built in the USA, including Sensaphone's innovative line of remote monitoring systems and early detection products.  Since 1985, Sensaphone has manufactured its full line of reliable and robust autodialers in the small town of Aston, PA, located about 20 miles south of Philadelphia.  If you are looking for a way to protect your unoccupied home, vacation property or office from environmental threats like low temperatures, high humidity and leaks, a  Sensaphone remote monitor is one of best devices out there for the job.  With a "Made in the USA" Sensaphone remote monitor standing guard, you'll receive alerts via phone, email or text message as soon as there's a problem so you can fix things before costly damage occurs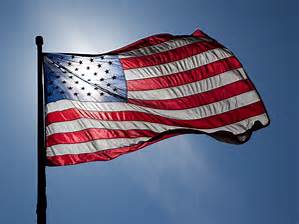 24/7 Surveillance of Home and Small Businesses
Sensaphone 400 and 800:  Affordable Phone-based Remote Monitors for Any Property
A Sensaphone 400 or 800 remote monitor is the inexpensive, simple-to-use and easy-to-install solution to have 24/7 surveillance or your property.  So many things can go wrong when no one is there to watch over your property, including water leaks, furnace failures, freezing pipes, break-ins and damage from high or low temperatures.  Even if you have a human caretaker or watchman, there will be times when your home or office is unattended.
Top Features: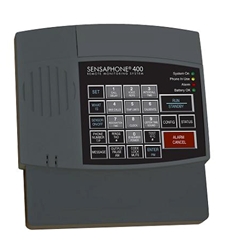 Communicates via a regular landline phone connection — In locations without landline service, a cellular terminal can be added to get a dial tone.
Prevents freeze or humidity damage — Monitors temperature from -20°F to 150°F so you'll know when the heat or A/C is out or when there's a power failure;
Sends you customized voice message alerts anywhere — Calls 4 or 8* phone numbers (home, cell or office) if there's a problem and keeps calling until answered;
Listen in — Features a built-in microphone so you can hear activity, such as a beeping smoke alarm or answering machine, or even an intruder;
Call in for status reports — Dial in to your Sensaphone to hear the status of all the conditions you're monitoring;
Monitor other critical conditions — Add 4 or 8* optional sensors to monitor for things like water on the floor, motion (see when your caretaker arrives) and high humidity (especially important in the south);
Easy to program remotely — Change settings or emergency contact numbers from wherever you are using your telephone's touch tones.
* Number of phone numbers and sensor inputs depends upon model.
Alerts via Email or Text, Plus Data Logging and Online Reporting
Sensaphone Web600:  The Economical Web-based Remote Monitor for Small Business
If you communicate primarily by smartphone, the Sensaphone Web600 Monitoring system is ideal for business people like you who want a remote monitor that sends alarm alerts by email or text message.  In unoccupied offices with a full-time Internet service, the Sensaphone Web600 protects as well as the Sensaphone 400 and is comparably priced.  And for small scale business applications that require advanced data logging and online reporting, the Web600 is the low-cost monitoring solution.
Top Features:
Sends alarm notifications to your smartphone, tablet or computer — Notifies up to eight people by e-mail, text message or SNMP if there's an alarm event or power outage;
Data-logging capabilities — Ideal for use in computer rooms and food and medical storage facilities; records up to 100,000 samples, including data, date, and time;
Log-in for status reports and remote programming — Access status conditions, review data logs and reprogram online through any web-enabled PC

or tablet

;
Monitors a range of conditions — Monitors temperatures from -109°F to 168°F; accepts up to six external wired sensors to monitor conditions such as humidity, air quality, water detection, and more.
Powerful Cloud-Based System
Sensaphone Sentinel:  Allows Homeowners or Businesses to Check Critical Conditions Easily from Anywhere
The cloud-based Sensaphone Sentinel system gives you access to your readings from anywhere using a simple, powerful web-based interface or mobile app. If something happens, you'll be the first to know. The Sentinel is designed primarily for businesses but homeowners will also appreciate the ease that they can access status reports and make on-the-go programming changes via the cloud site.  Alerts can be sent straight to your mobile device through an Internet or cellular connection to keep you updated and give you peace-of-mind wherever you are.
Top Features:
Notifies an unlimited number of people — Sends instant alerts by e-mail, text message or voice phone calls to as many users as you need;
Monitor up to 12 conditions — Accepts up to 12 external sensors; monitors a wide temperature range of -109° to 168°F;
Secure, user-friendly online control panel — Store your sensor readings in "the cloud" to automatically protect against data loss and provide limitless information storage;  also allows remote programming.
Cellular option — Available with an optional cellular modem for locations without landline or Internet service.
Why Choose Sensaphone?
For more than 30 years, over 400,000 Senspahone products have been manufactured, serviced, and supported in the U.S.  For consumers and business owners, that means a knowledgeable technical support team who can diagnose and correct many setup and programming problems over the phone; repair service at its PA headquarters; products with simple setup and programming with no complicated codes of commands; and a history of the highest customer satisfaction rates in the industry.  For purchasing information on Sensaphone remote monitors, contact diycontrols.com, an authorized Sensaphone reseller for decades.