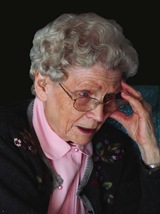 One night last month my elderly friend Barbara nearly died due to a power failure that that shut off her oxygen concentrator. Barbara suffers from emphysema and depends upon her oxygen machine to breathe. She also has severe hearing loss. So even though the oxygen machine's power alarm sounded when the electricity went out, she was fast asleep and didn't hear it.
"It was a warm summer night and I woke up because I felt so warm," Barbara explained. "I started to get out of bed to adjust the A/C, but I nearly collapsed because I was completely out of breath. That's when I realized that the power was out and I wasn't getting oxygen! I tried not to panic and used my cell phone to call 911 to have the EMTs hook me up to my portable oxygen supply."
What can be done to prevent a similar crisis from happening the next time there's a power failure, my friend wondered? Her physician recommended putting a power failure alarm in her bedroom that would wake her up during power outages. The key was to find one with a buzzer that was sufficiently loud.
Barbara assigned the task to her son and he was able to locate a device called a "failed circuit alarm" that has an 85 to 90 dB buzzer to notify you of a power failure. Its control box and alarm are at the end of a 15-foot cord so he mounted that right next to Barbara's bed so she'd have no trouble hearing it. The alarm has a piggyback style plug, so another electric appliance can utilize the same outlet, and a 9-volt battery that powers the alarm for 36+ hours. It was the perfect solution!
"I am determined to live independently for as long as I can," Barbara says, "and with this new power failure alarm, I can fall asleep without fearing that I'll lose my oxygen supply in the middle of the night."
Well, I myself had never heard of a power failure alarm or a failed circuit alarm, but I think that they'd be really handy to have in any home, especially to alert you of power outages or tripped circuits that could critically affect home appliances like refrigerators, freezers and computers. I discovered that some power failure alarms can even be upgraded with an autodialer that will call you on the phone when the power goes out – which would be a great thing to have at a vacation house for when you aren't there. For less than $50 for the basic model like Barbara got, it's a great investment!