Ask any home insurance agent and they'll tell you that a "whole house" leak detection is one the best ways to protect your home and property against costly water damage. Whole house water shutoff systems can prevent a little drip from becoming a catastrophic flood by automatically turning off the water main when a plumbing leak is detected.  WaterCop is one of the most popular whole house leak detection systems on the market today.  Applauded for their reliability, affordability and "Made in America" quality since their 1999 debut, WaterCop emergency water shutoff systems by DynaQuip are now even better. Here's a recap of recent improvements made to the WaterCop Classic line and why you should consider installing one in your house or apartment.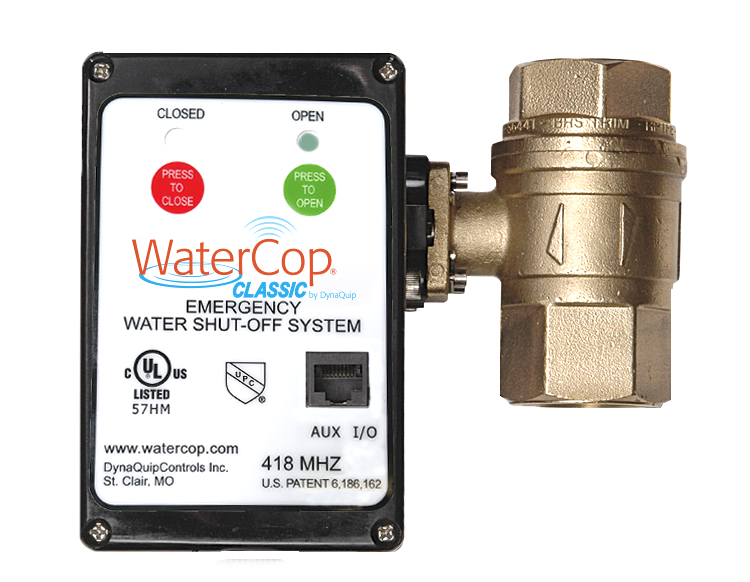 New Look, Better Design
WaterCop Classic has a new, sleeker look. The external antenna on each wireless water sensor and shutoff valve actuator have been removed and are now internal, eliminating the risk of them breaking off accidentally or becoming damaged.
In addition, the battery compartment on each component now features a pop-off back, making it easier to access and change batteries.
More Energy Efficient
The WaterCop Classic is now 12VDC with a 120V power supply, making it more energy efficient than the previous design.
Forward & Backward Compatibility
Already have a WaterCop system? Â No worries if you need to replace a component or expand your system. Â All of the older WaterCop sensors, repeaters and actuators are completely compatible with the new WaterCop Classic sensors and actuators.
Other Benefits
Full flow, lead-free industrial valve approved by ANSI/NSF 372;
WaterCop actuators support an unlimited number of sensors;
Wireless sensors transmit up to 200 feet or up to 400 feet by adding a repeater;
Water main valve can be opened/closed manually using touch buttons on actuator or by adding a remote switch;
Outdoor shutoff valve options (traditional or Z-Wave) available for homes built on slab foundations or situations where main water shutoff is located outside of the home;
WaterCop offers the widest range of sizes from 1/2″ to 1-1/4″ standard and 1-1/2″ to 4″.
Z-Wave WaterCop for Smart Homes
WaterCop's new Z-Wave automatic water shutoff system uses patented wireless technology and works with your Z-Wave smart home automation system to provide an automatic shutoff valve for your main water supply line.
Add WaterCop's Z-Wave enabled Wireless Water and Freeze Alarm/Sensor to monitor for both leaks and freezing temperatures within your Z-Wave network. If you don't have a Z-Wave system, use this sensor alone and receive an 82dB audible alert if a leak is detected.
If your home is built on a slab foundations or your main water shutoff is located outside, the WaterCop Z-Wave Outdoor Water Shutoff Valve can be controlled remotely with a Z-Wave smart home controller, such as the VeraEdge.
Great for Leak Detection at Rental and Vacation Homes
Most water leaks occur when buildings are unoccupied.  If you own a vacation home that sits empty for months or a rental property with tenants, use a WaterCop whole house water shutoff system to monitor your property 24/7 and protect your investment.
Invest in Leak Detection and Save on Insurance Premiums
Despite the fact that whole house leak detection systems like WaterCop have been around for decades, water damage still ranks as the number one or two most common home insurance claims every year, resulting in billions of dollars in payouts to homeowners. Â Stopping leaks when first detected reduces significant water damage and expensive property loss. That's why many insurance carriers offer discounts on insurance premiums to customers who install WaterCop systems and connect it to their central alarm system. In just a couple of years, your new WaterCop system can pay for itself while providing you with round-the-clock protection against water damage and peace-of-mind.