Shopping for cool gifts that will get a guy's attention can be a challenge, regardless of how old they are.  So we put together this list of not-so-ordinary gift ideas that will appeal to men who have everything, as well as those other guys who wish had everything!  We're confident that if you spend a minute or two browsing this article you'll find a couple of awesome gifts for that special father, grandfather, son, brother, boyfriend or uncle.
For Adventurers & Travelers
GPS Personal Location Finder
Your man will always find his way back with the small, lightweight Backtrack G2 Personal Locator from Bushnell.  Whether it's finding his way back to a campsite in the woods or marking a car in a crowded parking lot, getting back to where he started is as easy as pushing a button and following an arrow.  The Backtrack G2 stores and locates up to three separate locations and features a highly sensitive GPS receiver that uses the latest digital technology.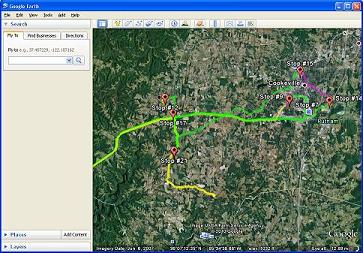 Tracking and Mapping Device
With the miniature iTrail GPS Logger in his pocket, backpack or car, your guy will be able to record his adventures and view them on Google Maps and Google Earth via the easy-to-use free software PC interface.  The iTrail GPS Logger records up to 120 hours of location, speed and time info.  When he's back home, all he has to do is plug the unit into his computer via the USB/charging cable and download the information to view it on the screen or print a report.  No monthly fees!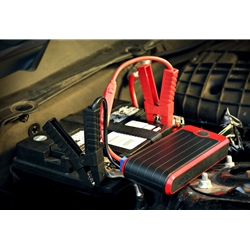 Compact & Portable Power Bank and Jump Starter for Cars
Here's a unique and handy gift for any man's car or truck:  it's the PowerAll Portable Power Bank and Car Jump Starter, the #1 selling portable lithium battery charger.  PowerAll combines 3 different useful devices into a package small enough to fit into a pocket or glove box: a battery charger for on-the-go charging of cell phones or other electronic devices; an emergency jump starter so he won't have to wait for a tow truck to jump start a dead battery; and an LED flashlight with on, strobe, and SOS flash modes. PowerAll features a powerful 12,000 mAh lithium ion rechargeable battery that retains about 50% of its rated capacity for up to a year.
For Chefs & BBQ Kings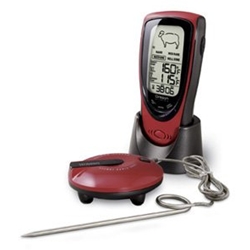 Wireless Talking Thermometer
Here's a cooking gadget that tailgaters and backyard BBQ chefs will love because it lets them hang out with friends and family while grilling.  When the meat they're cooking reaches the perfect internal temperature, the programmable Grill Right Talking Thermometer for Grills and Ovens sounds an alarm and announces the status of the meal ("almost ready," "ready" and "overcooked").  Features a digital LCD screen and remote wireless temperature probe that communicates with the main unit up to 330 feet away.  The multilingual Grill Right even speaks 5 languages!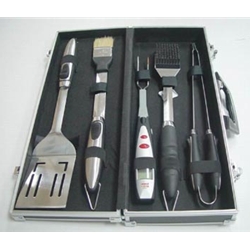 BBQ Accessory Kit and Case
The Marverick BBQ Accessory Kit contains everything your guy needs to grill, whether he's a novice or master chef.  It comes with five indispensable, professional quality tools for grilling — a spatula for flipping, tongs for spearing and turning, basting brush, grill cleaning brush and Maverick's ET-64 Fast Redi-Fork Digital Probe Thermometer (a $30 value).  Comes in an attractive carrying case for easy transport and storage.
For Coach Potatoes & Binge Watchers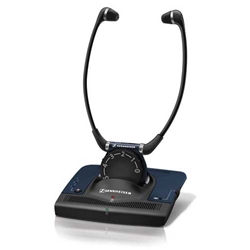 Wireless TV and Music Listening System
For men of all ages who want a comfortable and private way to listen to their TV, hi-fi system or radio, the Sennheiser Set 840 RF TV Sound Amplifier lets them turn up the volume without disturbing others.  The sound quality is excellent and the lightweight wishbone-shaped receiver has comfortable, flexible ear cushions.  And because it uses a wireless RF signal, users can enjoy full-range, personalized audio from their TV or entertainment system from another room or even outside up to 328 feet away.  It even transmits though walls!
For Control Freaks and Gadget Geeks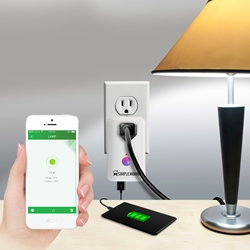 Remote Control Wi-Fi Plug
Here's a clever device for men who like to be in control.  With the SimpleHome Smart Wi-Fi Plug with Energy Monitor, your guy can control any plugged in device, lamp or appliance from anywhere in the world using their smartphone and the special app.  He can also program a weekly schedule to have the device turn on and off to help save energy or deter thieves.  In addition, the Smart WiFi Plug monitors how much energy the connected device is using. Works in any house, office or apartment with full-time Wi-Fi and includes an outlet plug and two USB ports for charging devices.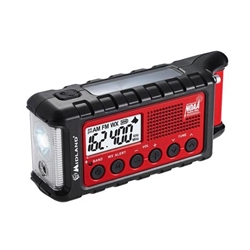 Emergency Crank Weather Alert Radio
If there's an avid weather watcher on your shopping list, Midland's ER310 E-READY Emergency Crank Weather Alert Radio is loaded with features they will gush over, starting with 7 preset weather channels (including NOAA) plus AM/FM; a super bright 1400 Lux LED flashlight with low, high, and strobe modes; an SOS beacon that transmits SOS in Morse code; smartphone and tablet charger via USB connection; and more.  It also has four power options — solar, hand crank, AA batteries and a rechargeable Li-ion battery — so it's always operating for receiving news and weather and ready to send emergency alerts.  Perfect for hunting, hiking, camping and every day use.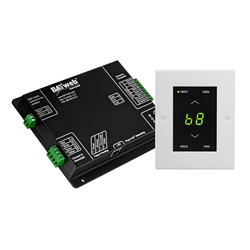 Remote Control Internet Thermostat
Cool gifts that combine technology, convenience and saving money will appeal to nearly all men, right?  So think outside the box and take a look at the BAYWeb Internet Thermostat.  It lets users adjust the thermostat from anywhere using their smartphone or computer so they can pre-cool or pre-heat the house before arriving.  It also sends email or text message alerts to an unlimited number of people if the room's temperature goes too high or low.  It even supports optional sensors to monitor things like water leaks or break-ins.
For Guys Who Take Security Seriously
Smart Indoor/Outdoor Security Camera for Live Streaming and Alerts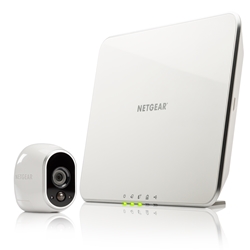 The Arlo Security System makes a great gift for men who want the peace-of-mind that comes with knowing that their home and property is guarded when they're not around.  This very cool motion-activated wireless security camera captures 7 days worth of video and sends an alert if there's activity.  The Arlo Security System include an Internet hub, a weatherproof HD camera with night vision and a free secure app for viewing video stored in the cloud.  Combine it with a Z-wave controller (like the VeraEdge) to begin building a full smart home system.  One Arlo hub supports up to 5 cameras (purchased separately).
Expandable Smart Home Lighting Automation Kit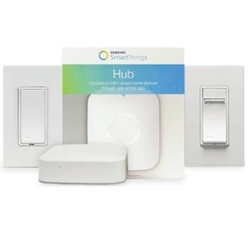 This Samsung SmartThings bundle is a great entrée into the world of smart homes.  The
Samsung SmartThings + Leviton Home Automation Bundle gives your man the ability to easily control the lighting in his home from anywhere in the world.  This kit includes the SmartThings hub, a Leviton universal dimmer and a Leviton switch.  And because this system is totally expandable and compatible with many Z-wave, Zigbee, and WiFi sensors and modules, he can add any of hundreds of compatible devices to monitor and protect his family and property, including lights, speakers, locks, thermostats, sensors and more.
More Cool Gifts for Him…
Jump over to the diycontrols.com store site for more cool gifts for men and women too!  We specialize in unusual devices and gadgets designed to make life easier and protect your home and family.  If you have any questions, we urge you to call our toll-free phone number and speak to one of our trained technical experts.