Whether you are a vacation homeowner worried about freezing pipes or a professional in charge of a data center, the new Sensaphone Sentinel makes it possible to remotely monitor critical conditions like temperature, humidity or leaks through the cloud.   Cloud-based remote monitoring is as cool as it sounds – it means you have access to your readings from anywhere using a simple but powerful web-based interface or smart phone app. And if there's a power outage, drop in temperature or leaky appliance, you'll be the first to know through alerts sent straight to your smartphone or mobile device.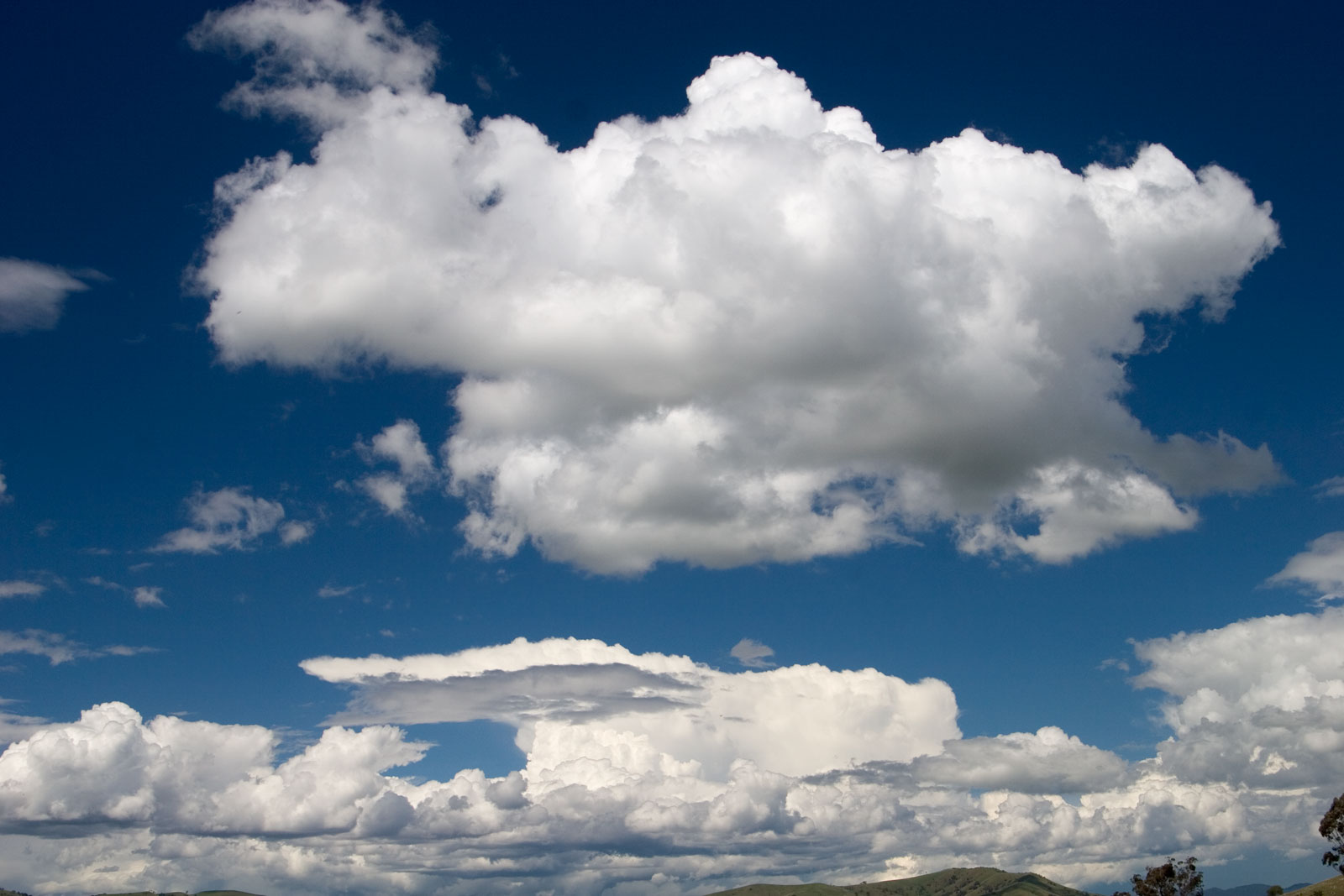 No Landline Needed
Early, basic remote monitoring systems required a landline phone connection to dial out, but these days a landline may not be cost-effective or even feasible, especially in a vacation home or remote facility. Instead, the new Sensaphone Sentinel communicates via an Internet or a cellular connection. You can choose the one that works at your location.
Internet — For homes or business locations with full-time Internet service, the Sentinel SCD-1200 connects to your router, network hub or switch using an Ethernet cable. (Basic Ethernet cloud service is included. Premium Ethernet cloud service is available for a low monthly fee.)
Cellular — For 24/7 monitoring of homes or sites without Internet service, the Sentinel SCD-1200-CL cellular version comes with a cellular modem and waterproof case and operates on the Verizon Wireless or AT&T networks. (Premium Cellular cloud service is required for a monthly fee.)
Receive Instant Alerts of Potential Problems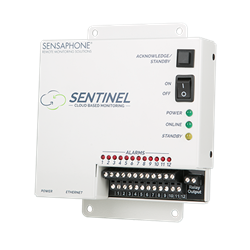 Timing can be critical to prevent costly damage to property or assets if there's a problem at your house or business. In the event of an alarm condition, both versions of the Sensaphone Sentinel (Internet and cellular) send out immediate text, email or voice phone call notifications to an unlimited number of people with the Premium Ethernet and Premium Cellular plans. With the free Basic Ethernet plan, email notifications are sent to an unlimited number of contacts.
To make remote monitoring even easier, a Sensaphone Sentinel mobile app is now available for both iOS and Android smartphones.
Beauty of the Cloud
So what's so special about cloud-based remote monitoring? Well, because the Sensaphone Sentinel system stores all sensor readings in the cloud, there are many advantages to the user, including:
All programming and editing can be done from anywhere via the cloud in real time, including turning sensors on and off and changing users.
Unlimited information storage with the Premium plans and 30 days of logs are provided with the free Basic Ethernet plan.
No worries about data loss.
Access to your readings from anywhere.
Multiple devices can be managed from one account using web-based management tools.
No software is required, so installation, integration and management of the system are fast and easy.
Users can print, view graphs or export event reports daily by logging in from anywhere.
Plug in Up to 12 Sensors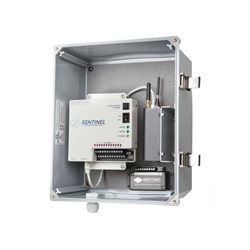 Each Sentinel unit can monitor up to 12 different environmental and equipment status conditions by adding a variety of wired sensors, including temperature from -109 °F to 168 °F, humidity, water, motion, power and more. It can also monitor anything with a dry contact.
Connects to Your Alarm System
If your home or office is already protected by a security system, it's easy to hook up the Sensaphone Sentinel to your security alarm to ensure that your central monitoring service will also be notified of an emergency event.
Peace-of-Mind, All the Time
The Sensaphone Sentinel offers homeowners and businesses the latest advancements in remote monitoring technology and provides anytime, anywhere peace-of-mind: cloud-based storage; Internet or cellular communications; unlimited text, email or voice notifications to an unlimited number of people; and the ability to hook up 12 different sensors. For homeowners or small businesses who like the idea of a web-based remote monitoring system but need only 6 or fewer sensors and can do without cloud storage and voice alerts, the Sensaphone Web600 may be a good alternative to the more powerful Sentinel.