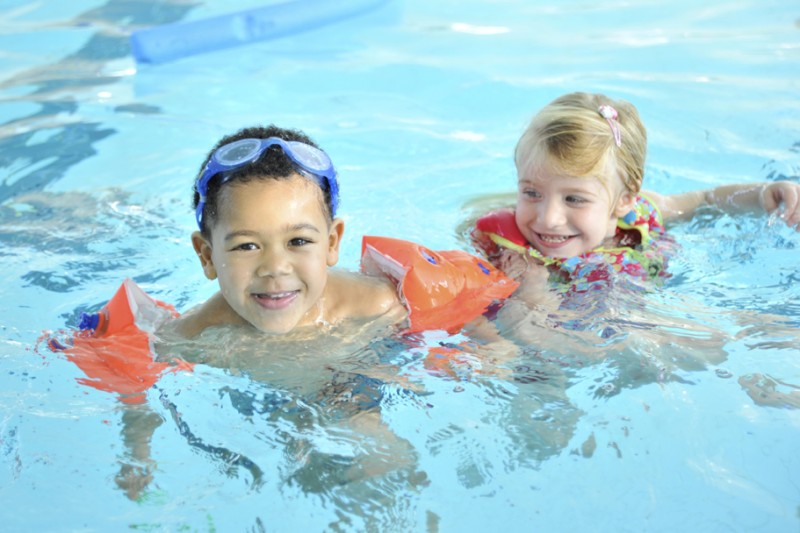 If you have a backyard pool, you know the importance of keeping kids safe in and near the water. According to the Centers for Disease Control and Prevention (CDC), drowning is the second leading cause of injury death for children ages one to 14 and most of these incidents occur in home swimming pools.
To prevent family fun from becoming dangerous, it's essential to put the proper safety precautions in place. In addition to installing a fence, there are plenty of pool security devices to choose from. To help you narrow down the options, here are our top five must-haves when it comes to protecting kids and preventing accidents in your pool.
#1: Pool Gate/Door Alarm
A pool door or gate alarm is your first line of defense in preventing young children and non-swimmers from entering the water. It sounds a piercing siren when someone opens the door or gate leading to the pool area, giving adults ample time to intervene. The popular MagnaLatch ALERT Pool Safety Gate Latch with Alarm is easy to install to vinyl, metal or wood gate posts. Or check out the Pool Patrol Door / Gate Alarm with Wireless Remote Receiver, which fits both gates and doors and can be connected to a home security system so it sounds an alarm inside and outside.
#2: Swim Aids & Flotation Devices
Outfitting kids with a swim aid or flotation device will ensure that they stay afloat while they are learning to swim or if they get into trouble or deep water. Some of the most popular products for young children include Learn-to-Swim Arm Floats or swimmies for beginning swimmers and the super-comfortable PoolMaster Learn-to-Swim Tube Trainer for children up to 35 pounds.
#3: Immersion Pool Alarm
If you're not near the pool, a water immersion pool alarm is the next best option for keeping children and non-swimmers safe. With a pool alarm, anyone who gets past your fence and gate/door alarm will still be protected if he or she falls into the water.
The most advanced and effective pool alarms use a combination of technologies designed to improve the alarm's ability to sense and trigger when anyone is in the water while minimizing false alarms. Be sure to select an alarm designed for the type of pool you have these comparison charts for above-ground and in-ground pools are a great place to start.
We suggest an immersion alarm like the PoolEye PE23 Pool Alarm. Perfect for any type of pool, it mounts on the side and uses a sophisticated program that reads both surface and subsurface waves.
#4: Personal Immersion Detector
Personal immersion detectors feature a special wristband the child wears while in the pool area that sounds a loud alarm to one or more base stations the instant they come in contact with the water. This is a good secondary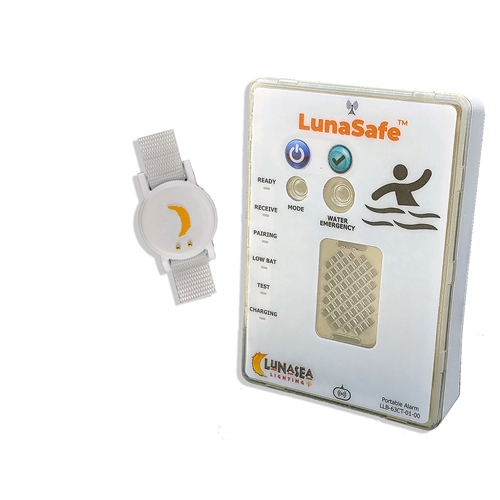 security system to provide extra protection for kids around a pool. The Safety Turtle 2.0 Wristband Immersion Alarm is a top-rated personal immersion detector system designed to protect non-swimmers or anyone who shouldn't swim alone. Another great option is the LunaSafe Child/Pet Immersion Pool/Water Alarm Kit. You can even clip LunaSafe immersion tags to your pet's collar to keep them safe, too.
#5: Floating Motion Sensor
Surface-based motion alarms are popular among pool owners because they are relatively inexpensive and can be used in both above and in-ground pools. These floating pool alarms use electronic signals to measure displaced water and waves created by objects of a certain weight.

We like the Pool Patrol PA-30, which comes with a remote receiver you can set up in your home. The alarm sounds when anyone or anything heavier than 8 pounds falls into the water, making it a great choice for protecting kids and pets.
Must-Have Emergency Equipment
While these ingenious devices will alert you to people entering the pool area or the water, every backyard pool owner should keep basic emergency equipment on hand. This can include a ring buoy that can be tossed quickly to anyone struggling in the water, as well as a reaching pole or a shepherd's crook. Always keep a cell phone in the pool area in case you need to call for help in an emergency. It's also a good idea to review the CDC's guidelines on how to prevent child drowning.
The bottom line: if you have a pool, you need to take the proper precautions to keep kids safe while in and around it. DIY's pool safety experts can help you find the right combination of products, at the right price, to help prevent accidents and give you peace of mind.