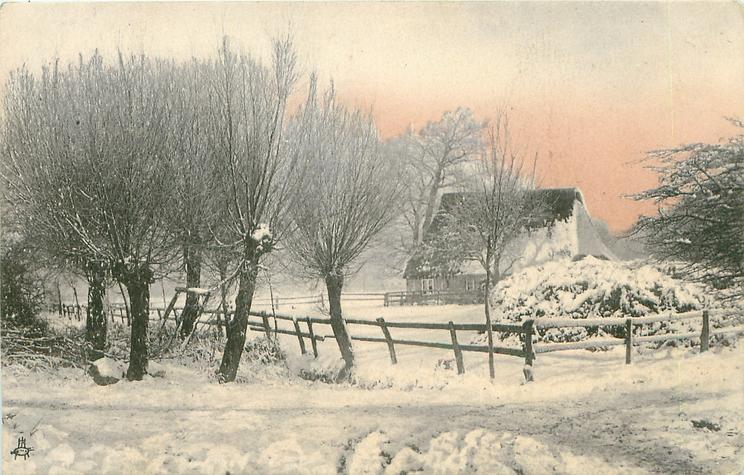 Loss of heat, power outages, isolation, hypothermia and dehydration are serious concerns for seniors during the winter, so we've put together some practical home safety tips to help them prepare for the long, cold months ahead.
"Fuel up"
Have the furnace checked by a HVAC professional and get the chimney and flue cleaned.  Early in the season, schedule a delivery of home heating oil or propane and monitor fuel levels as winter progresses. When levels fall below a quarter of tank, schedule a fuel delivery.  Financially-strapped seniors may be eligible for state aid to purchase heating fuel.  Go to the U.S. Department of Health and Human Services website for information on state and utility-funded energy programs.
Get an Alternative Source of Heat
Power outages can last for days in the winter so it's imperative that seniors have an alternative (non-electric) source of heat, such as a wood stove, kerosene heater or efficient wood-burning fireplace.  Always have an adequate supply of seasoned wood or kerosene fuel on-hand. Remember that deadly carbon monoxide fumes are emitted when burning wood and kerosene, so make sure the area is properly ventilated and a smoke detector and carbon monoxide detector is installed nearby.  Better yet, consider installing a multi-function monitoring system with an auto-dialer, like the Sensaphone 400, that automatically sends telephone alerts to family or friends if there is a smoke or toxic gas emergency.
Install an Emergency Notification Device
A power outage, medical emergency or panic attack can make it difficult or impossible for seniors to call out for help. Thankfully, there are many affordable devices on the market that make it easy for seniors to alert family or friends in an emergency.
A battery-powered temperature warning light placed in highly-visible window is an effective, inexpensive way to alert neighbors that the heat is out and temperatures in the house are dropping dangerously low. When temperatures fall below 30oF, a flashing red light is activated to signal neighbors or passersby that help is needed.
Another option is a freeze alarms that automatically calls an offsite caregiver or family member when the indoor temperature plummets.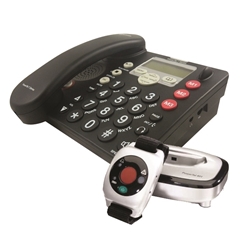 A "panic button" wristband emergency transmitter that allows seniors to call out for help from anywhere in the home, even if they have fallen, is a must. Consider getting an Amplicom PowerTel 7 Series Phone, the all-in-one amplified phone and answering machine, and add the "panic button" emergency transmitter wristshaker  The phone can be programmed with up to 200 emergency and frequently-dialed phone numbers and features a large, easy-to-read keypad and an adjustable volume control for the hard-of-hearing, making it an ideal phone system for seniors.
Stock up on Food and Water
Snow and ice can keep seniors housebound for days and even weeks. Seniors should prepare for being stuck at home by stocking the cupboards with a week's supply of non-perishable food and a couple of gallons of bottled drinking water.  A non-electric can opener should be kept on-hand in case there is a power outage.
Prevent Hypothermia
According to the National Institute on Aging (NIA), older adults are especially vulnerable to hypothermia, which can be deadly if not treated quickly.  Lower body heat, inactivity, illnesses such as diabetes and some medications also put older adults at risk of hypothermia.  To avoid danger, seniors should stay inside during extreme cold and windy weather; keep their home heated to between 68o – 70o F, and dress in layers including long underwear, socks, slippers and sweaters.
Refill Prescription Medications­­
An impassable blizzard can happen at any time, so it's important for seniors to be well-stocked with critical meds.  To avoid having to drive in bad weather, find a local pharmacy that makes home deliveries or sign up with a mail order pharmacy.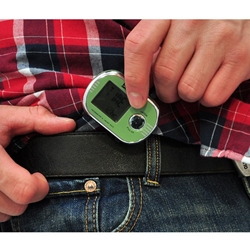 Stay Fit and Healthy
Exercise, diet and staying well-hydrated are important for good health, especially in the wintertime.  Seniors who are mobile should move their bodies by walking in place or doing laps around the house.  Wearing a pedometer can help them track their activity.  To prevent dehydration, eat well-balanced meals that include lots of vegetables and fruits and drink plenty of water.
Summary
Seniors living independently can survive the long winter months by preparing for cold weather challenges in advance and by following these home safety tips.  To avoid feeling isolated, seniors should reach out to family members and friends by phone or computer on a regular basis to get the latest news and assure everyone that they're OK.