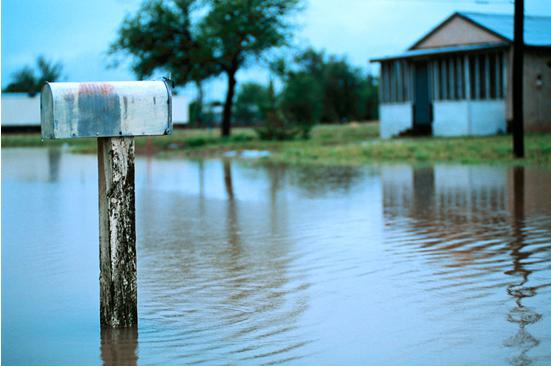 The winter brought record snow falls and colder than normal temperatures to much of the United States, but thankfully relief from springtime is just around the corner.  Homeowners looking forward to winter's end and green lawns should also prepare for the unfortunate side effect of melting snow and ice – basement flooding.  Heavy rainfall and rapidly melting snow during a spring thaw are primary causes of wet basements, however, there are steps you can take now to reduce damage.
Clear snow away from the house – Melting snow piled up around the perimeter of your house will run down basement walls, so get out your shovel and move it back 3-5 feet.
Clean out gutters and downspouts – Remove snow, ice and debris from your roof and gutters so water can move freely away from the foundation of your home.  Properly designed gutters and downspouts should move water at least three feet away from the house to a well-drained area.  For tips on how to clear your gutters, see "How to Remove Ice Dams in Gutters."
Check your sump pump – Basements prone to flooding should be equipped with a sump pump to draw water out of the basement and away from the house.  If your home has a sump pump, make sure the intake valve is not blocked and the sump pit is clean.  Test it by pouring water into the pit and checking that the outflow discharges away from the house.  Consider installing a sump pump if your home has a history of flooding.
Get peace of mind with a water alarm – A water alarm and flood sensor will alert you of water in the basement before extensive damage is done.  There are a range of affordable water alarm systems available that will alert you via an audible siren and/or a phone call to one or more pre-programmed telephone numbers.
Move valuables to higher ground – Basements are a great place to store seldom used items, but recognize that everything stored down there is at risk.  Moisture, mold and water damage are constant threats.   Anything stored in a basement should be moved off the ground and onto a shelf unless it is waterproof, and important papers and valuable property should be relocated to an upstairs room, closet or attic.
These simple steps can help prevent thousands of dollars of water damage caused by basement flooding.  So protect your house and belongings and go through this checklist before the spring thaw (and deluge of water) arrives!