Old Man Winter is back again, and with winter comes power outages. Downed power lines can be caused by heavy snow, ice, wind and sometimes errant drivers, but the result is the same — hours or even days without electricity.  To help you and your family endure this winter's inevitable power outages, take steps now to get prepared.  Here are some practical tips and useful battery- and solar-powered devices for the home to help your family cope with the next blackout.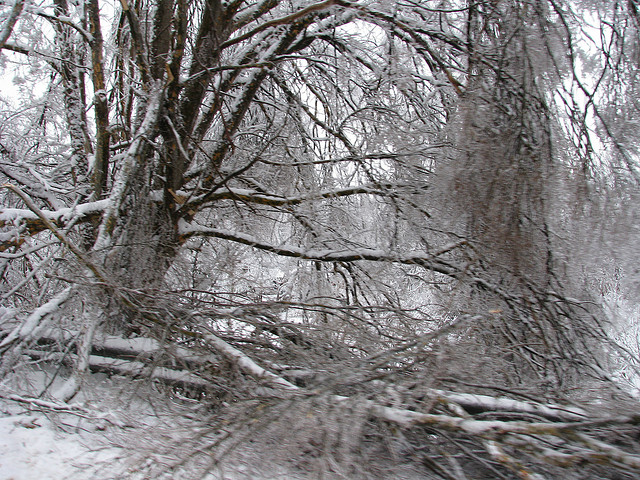 Power Outage Checklist
Stock up on food and water
Stock the cupboard with non-perishable food and a couple of gallons of drinking water per person in case the power outage keeps everyone housebound for a few days. Keep a non-electric crank can opener in your kitchen drawer. Fill a few clean pails or the bathtub with tap water for washing.
Stockpile flashlights and extra batteries
Flashlights are always a safer choice than candles for emergency lighting. In addition to conventional flashlights, get a hand-crank flashlight that works without batteries like the Wind 'n Go emergency flashlight with three bright LEDs.  One minute of cranking yields up to an hour of light.  This flashlight can also be used to charge most cell phones using the universal Nokia adaptor (included).
Purchase a weather radio
When television is no longer an option for getting news, a battery-powered weather-alert radio is a must-have for automatic official, up-to-the-minute information on severe weather, local hazards and other emergencies.  Two excellent weather alert radios are the Midland 7-Channel Emergency Crank NOAA Radio and the WeatherX AM/FM Weatherband Radio.  Both models have a built-in flashlight and can be powered by batteries or a hand crank.
Fill important prescriptions
A power outage can occur at any time, so don't let important meds run low in the winter time. Consider switching to a local pharmacy that makes home deliveries or sign up with a mail order pharmacy so no one has to venture out in bad weather to pick up medications.
Keep a battery-powered cell phone charger handy
Landline phone service is usually unaffected by power outages, but if you're like many Americans who no longer have landline phone service, you will want to keep your cell phone fully charged at all times. A battery-powered cell phone charger like the 2,400 mAh PowerNow Buddy or the higher capacity 5,600 mAh PowerNow Grande give you a way to charge your cell phone during prolonged power outages.  The PowerNow Grande can also charge tablets. Both chargers use a long-life lithium ion battery with nearly a year of shelf life.
Install solar-powered floodlights for outdoor safety
It is incredible how dark your yard can be during a power outage!  Keep family and friends safe and scare away intruders by installing a few solar-powered floodlights around the perimeter of your house to light up walkways, driveways, garages and sheds.  These floodlights turn on when motion is detected at night. When charged in full sunlight, the light can activate up to 150 times when on for 60 seconds at a time.
Special lighting for indoor safety
To keep everyone safe when the lights go out, plug in a rechargeable nightlight like the Datexx Sentina LED that turns on automatically during a power outage.  Use it to light up a main hallway or room.
Prevent basement floods
Electric sump pumps don't pump during power outages and can lead to a messy flooded basement.  A battery-powered sump pump alarm will sound a loud warning if the water level in your sump pit rises to a dangerous level, so you can take preventive action before the pit overflows.  The model in this photo uses a standard 9-volt battery.
For protection when no one is home, the PumpAlarm Cellular Water Alarm sends text message alerts to your cell phone or mobile device when the water level in the pit gets too high. It also notifies you when there' s a power outage.
Protect against carbon monoxide poisoning
People come up with all sorts of risky ways to stay warm during a power outage — like using a portable propane or kerosene heater indoors, opening the oven to warm the kitchen, or running a gasoline generator in a poorly vented place — all of which can produce deadly carbon monoxide (CO) fumes.  If you are going to use one of these alternate heat sources, protect your family from odorless, invisible CO by providing adequate ventilation and installing a CO alarm with battery-backup that will continue to operate when the power goes out.
Have a backup plan to start your car
Cold temperatures affect the chemical process inside a car's battery that produces and stores electricity, effectively slowing it down and reducing the battery's ability to hold the charge.  To ensure that you have a way to jumpstart your car battery during a power outage, keep a battery-powered portable jumpstarter like the Stanley 300 Amp Jump Starter in your garage. The Stanley 300 provides 300 amps of instant starting power and features reverse polarity alarms to warn against improper connections to battery terminals.
More Power Outage Advice
Here are a few other guidelines for keeping warm and safe during a winter power outage while you wait for the electricity to be restored:
If you own a portable generator, operate it safely — Never run a generator inside a home or garage because they produce potentially deadly carbon-monoxide fumes. Always keep running generators in an open and ventilated area.
Minimize refrigerator and freezer openings — By not opening the door, you can keep the temperature lower for a longer period of time. Make a conscious effort before you open the fridge/freezer to plan what you will take out and close the door quickly.
Unplug all TVs, computers and appliances — There is an added risk of power surges during an outage that can destroy your appliances, so unplug everything except one light, so you'll keep your electronics safe and will know when the power has returned.
Dress in layers to stay warm – Trapping air in between several layers will keep you warmer than wearing one heavy piece of clothing.  Start with a base layer that insulates well, followed by intermediate layers.
For other good power outage tips, go to the U.S. government's "Ready" website.