If you are looking for ways to save money on home maintenance this spring, start by tackling the easiest chores yourself instead of paying a handyman or contractor.  Most homeowners can handle many routine home repairs and spring cleanup chores themselves and save hundreds and even thousands of dollars in expenses by doing so.  So instead of calling your local handyman, put these 7 home maintenance chores on next weekend's agenda…and channel your savings towards a really great summer vacation!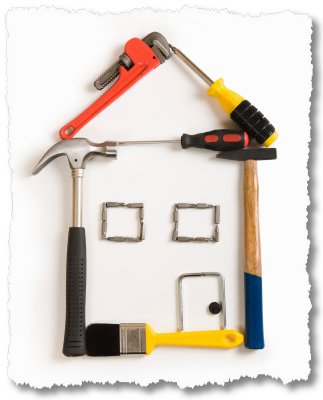 1. Check for Damage on the Roof
Interior water damage often originates at the top of the house on the roof.  Grab a ladder and check your roof for missing or broken shingles and inspect flashings and joints around chimneys and skylights. If your roof is less than 20 years old and the damage is limited to a few cracked or missing shingles, you should be able to handle the repairs yourself following these step-by-step instructions for replacing shingles and re-caulking.
Also, crawl around your attic and look for water stains or drips. If you see evidence of leakage, wet that section of the roof with a garden hose and check the attic again for drips. To monitor a suspect area in the attic, setup a simple simple water sensor alarm that will alert you of new leaks.
2. Give Your Chimney a Sweep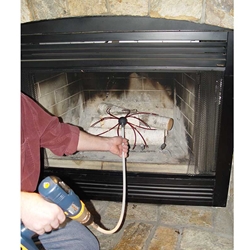 If you used your fireplace or wood stove this past winter, spring is a good time to give the chimney flue one last cleaning so you won't smell soot and creosote all summer. Instead of paying a professional chimney sweep, invest in a do-it-yourself chimney cleaning system that makes chimney cleaning a easy chore any homeowner.
3. Unclog Blocked Gutters
Prevent spring rains from backing up and leaking into the house by cleaning branches and leaves out of gutters and downspouts.  For easy and fast gutter cleaning, get a do-it-yourself gutter cleaning tool kit that lets you remove leaves and debris from your gutters and rinse them clean without having to get up on a ladder.
4. Prevent Basement Flooding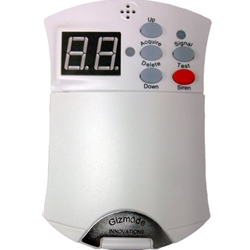 Spring thaws and heavy rains are a major cause of basement flooding. If your basement is prone to flooding, installing a sump pump will draw water out from under the basement and pump it far away from the foundation.  Here's a do-it-yourself sump pump kit that includes everything you need to install a sump pump in less than an hour.  Another good idea is setting up a water alarm and flood sensor that will alert you if water is collecting in the basement, before extensive damage is done.
5.  Flush Hot Water Heater
Over time, sediment can build up in your water heater tank and compromise its energy efficiency, shorten its life and lead to clogs in fixtures throughout the house.  A periodic draining and flushing is the best way to prevent hot water heater problems.  To prevent catastrophic flooding if your hot water heater does spring a leak, hook up a leak detection and automatic shutoff system that automatically shuts off the feed water intake and sounds an audible alarm if a leak is detected.
6. Seal Doors and Windows
Don't overlook the importance of exterior home maintenance.  Do a visual inspection of all windows and doors. Look for air leaks around doors and windows and for places where caulking has become brittle or loose. Also check for cracked windows and torn screens. Recaulk joints, replace broken windows, and repair ripped screens.
7.  Get Ready for Swim Season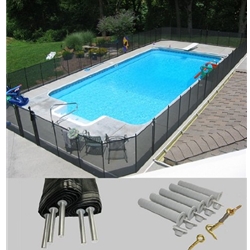 Why not try opening the pool yourself this spring instead of calling a professional pool service?  Follow the tips in "Pool Opening Made Easy: 10 Steps for Do-it-Yourselfers."  Be sure to check with state and local governments to ensure that your pool and spa complies the latest pool safety codes (such as the 2007 Virginia Graeme Baker Pool and Spa Safety Act).  Most towns require a minimum 4-foot tall fence with a self-closing gate.  Some municipalities also require a pool gate alarm as an additional layer of protection. For triple protection, safety guidelines recommend including a pool alarm to protect children who succeed in getting over the fence and past the gate alarm.
Other Home Maintenance "How To's"
Still have extra time on your hands after completing these 7 home maintenance tasks?  Congratulations!  Here are a few other "how to" articles for accomplished DIY-ers like yourself:
How to Prevent Flooding in an Upstairs Laundry Room
How to Pick a DIY Wireless Security System for Your Home
How to Prevent Drowning Accidents in Your Backyard Pool