Back to school time is stressful, especially if you are a working parent with limited time before, during or after school.  All parents want to be assured that their children are safe when they are out of sight and have the tools to succeed in school.  Here's a list of devices that will make it easier for you to check up on your kids when you aren't together and also help children and teens navigate the world on their own.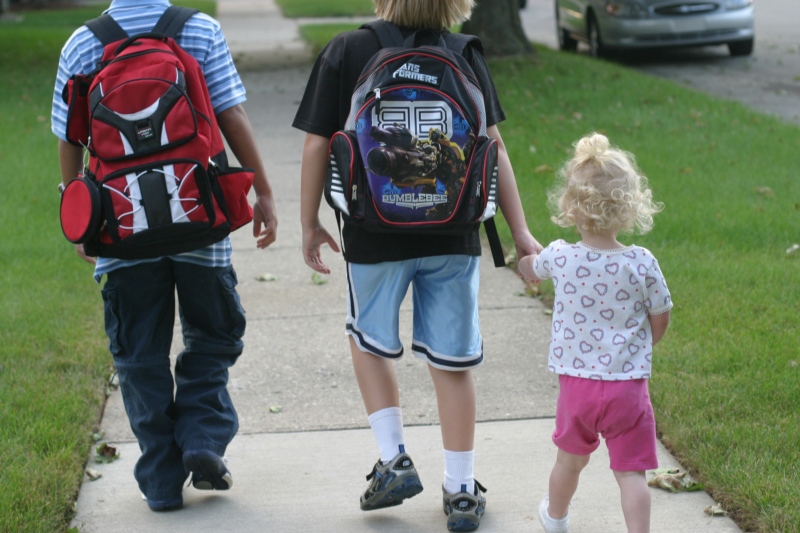 Little Kids
Check Up on Baby from Anywhere
Do you ever find yourself sitting on the train or at your desk wondering how your little one is doing at home? With the Motorola Blink Wi-Fi Video Baby Monitor, parents can see the live action, control the camera and record video using a smartphone, computer and tablet.  The Motorola Blink with Wi-Fi and the free downloadable app turns any Internet-enabled device into a fully functional video baby monitor.  It even lets you talk and hear baby from anywhere at anytime.  The Motorola Blink features infrared night vision that lets you see what's going in your baby's room when the lights are off.  About $190.
Better than a Teddy Bear Nanny Cam
Unlike the classic Teddy bear nanny cam only blends in on the shelf in the nursery, this nanny cam looks like an ordinary digital alarm clock and can be displayed in just about any room in the house.  Made by SleuthGear, the Digital Wireless Cube Alarm Clock is a fully self-contained, wireless hidden camera that allows you to stream your encrypted video transmission over the Internet and watch your live feed from virtually anywhere via a PC or smart phone. It's easy to set up and is compatible with Windows XP, Windows Vista 32bit and Windows.  Priced around $250.
Bigger Kids

Protect Walkers from Dangerous or Pesky Dogs
Pack an Eyenimal Dog Repeller in your child's backpack and they'll feel a lot safer as they walk home from school if they encounter a scary dog.  This high tech device repels unwanted dogs by emitting ultrasonic sounds that dogs don't like.  And because it doubles as a flashlight, kids will feel even safer when it's dark out and they're alone. The Eyenimal Dog Repeller has a range of up to 16 feet and a control that lets users choose between a silent ultrasonic sound to repel dogs and an audible alarm to call for help from neighbors or passers-by.  Only $25.
Help Kids Stay on Schedule
If your kids have an iPhone, the Bluetooth-enabled TCL Pulse from Amplifyze is a handy little vibrating alarm "pillow" that synchs with their phone.  Kids can use their Pulse to help them remember class times, appointments, medication time and more.  All they need to do is enter important reminder times on the Pulse app and slip the Pulse into a pocket.  At the appointed time, the Pulse will vibrate silently.  It can also sound an audible alarm.  Put Pulse under a bed pillow and use it as a wakeup alarm.  The TCL Pulse manages up to 10 different alarms for each day and lets you control the loudness and ring patterns.  In addition to the iPhone, Pulse is compatible with the iPad with Retina Display, iPad mini, iPad Air and iPod 5th Generation.  About $40.
Discreetly Monitor Kids' Computer & Cell Phone Activity
Cyber bullying, sexting, inappropriate chat rooms and exposure to online pedophiles are real concerns for middle school parents. If you're concerned about what your child is typing or looking at, the Recover It is the all-in-one cyber safety device that works on both computers and cell phones, including iPhones, Android and Blackberry. Just plug it into the USB port and use it to scan for online chatting and visits to pornographic sites; deleted images, emails, data and Internet cache files; and suspected pornographic images. It can even create a report of what your kids are saying to people online.  Less than $160.
The "No Excuses" Dual Alarm Clock with Loud Ringer and Vibrating Wristband
Sleeping through the alarm clock is a big problem for lots of high school and college students, but with the Amplicom TCL Vibe Digital Dual Alarm Clock on their nightstand, there will be no more excuses for being late for the bus or work or missing class.  Even the deepest of sleepers will hear its loud 75dB ringer (that beeps for 90 seconds!).  But just in case they don't, the Vibe has a soft vibrating wristband as a backup.  Use them together or just put on the wristband for a silent wakeup that won't disturb others.  The Vibe also has a 5 minute snooze feature.  Its compact 2-5/8″ cube size fits on any nightstand and is easy to pack when traveling.  Priced under $50.
Keep Track of New Drivers, Walkers and Bicyclists
All parents worry when their teens become new drivers.  Where are they going?  Did they arrive safely?  Are they on their way home yet?  Parents also worry about children walking or biking to school or to a friend's house.  If you want a reliable but discreet way to spy on your kids when they are behind the wheel or on the go, the pocket-sized SilverCloud® Tag Personal Tracker is the real-time GPS tracking solution for monitoring your child's activity and location.  The SilverCloud® Tag's ultra-compact size allows it to be placed inside a vehicle, child's backpack, briefcase or purse. It provides a simultaneous 2D and 3D real-time GPS tracking Google Map display and an unlimited historical playback and works on an iPhone or iPad using the free SilverCloud iTunes app.  About $200 (plus a $29.95 activation fee).
More Child Safety Products
If you would like to learn about other devices that can keep your children safe and happy before, during or after, go to the diycontrols.com store for other parenting products and solutions and check out these categories:
PC Monitoring and Cell Phone Spying